Resume & Cover Letter
Presented by:
ACTC Career Services Center
Technology Drive Campus
Office Suite 119
Learning Objectives
What is a resume?
Why do I need a resume?
How do I start?
What is a cover letter?
How do I format a cover letter?
What is a resume?
What is it?
A door opener
Your personalized marketing tool
A summary of your knowledge, skills and experience
An employer's guide to what you can do
Why do I need a resume?
Your resume communicates your qualifications, who you are and what makes you different to employers.
A great resume:
Grabs the attention of employers and recruiters
Sells your strongest skills and accomplishments
Shows why you're a potential match for a position
Communicates both your current capabilities and future potential
And most importantly, gets you the interview!
Tools For Resume Success
ACTC provides the following to help with resumes
Career Center - Technology Drive Campus Office Suites 119
Learning Express Library 3.0 - Career Center
How Do I Get Started?
Before you get started on your resume...
Familiarize yourself with Application Tracking Systems (ATS)
Decide which resume type is best for you based upon your skills, educational accomplishments, and work history
Understand that resumes have significantly changed over the past 10 years. Ensure your resume is professional, up to date, and filled with the information recruiters and hiring managers are looking for.
Applicant Tracking Systems (ATS)
What is an ATS?
Applicant tracking systems (ATS) are used by many employers to process job applications and to manage the hiring process.
How Applicant Tracking Systems Work
When an applicant applies for a job online, their personal information, including contact information, experience and educational background, resume and cover letter, is uploaded into the database.
The information then can be transferred from one component of the system to another as the candidate moves through the hiring process.
Applicant Tracking Systems (ATS) Tips
Avoid using resume templates
These can be found online and on Microsoft Word.
Templates can not always be recognized by the ATS. Instead, use a blank Microsoft Word document to create your own.
Add keywords to your resume
Look over the job opening that you wish to apply for.
Highlight, circle, underline, or take note of keywords that are listed within the job responsibilities and job description.
Include these words within your resume for the ATS to recognize.
Which Type of Resume Works Best for You?
Chronological Resumes
Chronological Resumes are ideal to use for someone who have work experience relating to their career path.
For example: This resume style would be excellent for a nurse who is applying for a nursing position with several years of experience within the medical field.
This resume style draws attention towards work experience/history
Functional Resumes
Functional Resumes are ideal to use for someone with limited work experience within their related career path
For example: This resume style would be used for someone with a recent college degree with limited work experience within their field
This resume style draws attention towards educational accomplishments
Formatting Tips Before You Get Started
Font
Use professional fonts throughout your resume
11 or 12 point font in Arial or Times New Roman is ideal
A font size exception will be your name. Your name should be between 16-20 font and bolded
Spacing
Resumes should have a visually pleasing amount of white space
Do not overcrowd your resume, but it should be one full page
Margins should be set to 1 inch on all sides, but can be reduced to 0.5 inches for formatting purposes
Pages
On average, employers spend 8 seconds reviewing a resume
Resumes should ideally be one page, single sided
The eye is naturally drawn to the top third of the page. For a resume, this means that the top third of the page is a great place to highlight pertinent and impressive information. Use the space to give the reader a sense of who you are, your personal "brand"
Know the Top Resume "Don'ts!"
Do not include a photo
Do not list reference or include "References Available Upon Request"
Do not include personal information (Date of birth, age, family information)
Do not include your high school information within the education section
Do not include your interests and hobbies
Do not use jargon or uncommon acronyms
Parts of A Resume
The Heading

Parts of the Heading
The heading should be at the top of your resume and will include your:
Full name; no nicknames. Name should be bolded and in 16-20 size font.
Address
Phone number
Email address- email addresses must be professional. Did you know that 73% of resumes are discarded because of unprofessional email addresses?
Optional: LinkedIn URL
Summary of Qualifications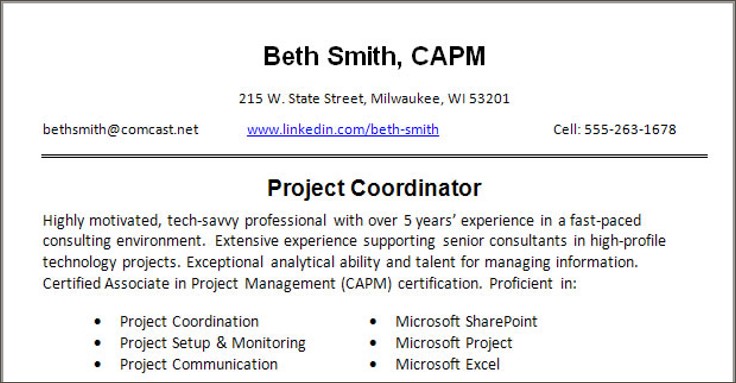 Parts of the Summary of Qualifications Section
The summary of qualifications section can be found directly under the heading
Notice in the example, "Project Coordinator" is in bold font and stands out.
This section can be labeled with a specific job title or directly labeled "Summary of Qualifications", "Profile", or "Summary of Skills"
Refer to yourself in third person here. Refrain from using phrases such as "I" or "I'm"
Highlighting Key Skills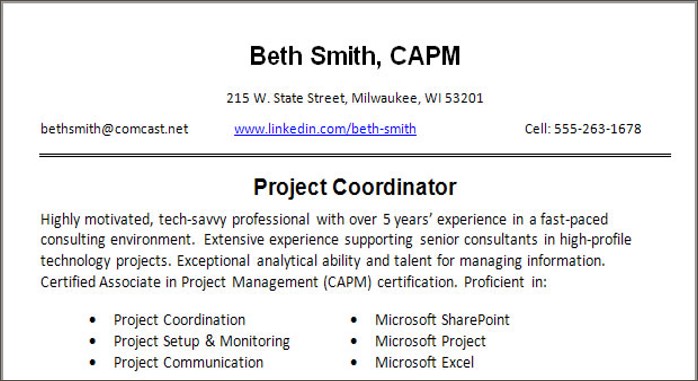 Tips for Highlighting Skills
Avoid lists of generic skill sets and place key words in this section that will get you noticed.
For example: HIPPA knowledge and Anatomy Terminology are excellent skill sets to highlight for a medical position. These skills are favorable to list over skills such as friendly or dependable.
Bullet points help key skills standout

Education

Parts of the Education Section
Education should be listed in chronological order (Most recent educational accomplishments listed first)
TIP: Do not include high school education on the resume
What to include:

Full School Name
City, State
Degree
Technical Studies
Graduation Date or Expected Graduation. Include Month and Year
GPA: Only include GPA if 3.0 and above
Relevant Coursework

Relevant Coursework Tips
Adding a Relevant Coursework Section is ideal for Functional Resumes
List 6-8 courses that highlight your skills for employers.
Think of the classes you have taken throughout your college experience. What courses would
your future employer be interested in seeing on your resume?
Relevant Coursework can be listed with bullet points or in columns
Professional Experience
Work Experience Information
List work experience in chronological order (Most recent should be listed first)
Limit work history to the past 10-15 years.
If you have had several career changes within this time, only list the past 3-4 jobs.
What to include:

Company's full name
City, State
Time at position- Month & Year
Job Title
Accomplishment Statement Tips
List 3-4 accomplishment statements with each job listed within your work experience. Think of these as a professional description of your job responsibilities.
Use bullet points for each statement
The first word of each statement should be a verb
Avoid using "I"
Do not include period/punctuation marks
Fragments are okay to use
Other Resume Categories to Consider
Relevant certifications
Volunteer experiences
Internships
Training Courses
Relevant license
Awards or Honors
* Note- If you have things that you've done in high school on your resume, it's time to let that go. While you may have received impressive awards in high school, employers want to see what experience you've gained in college instead.
What is a Cover Letter?
A cover letter is a document sent with your resume to provide additional information on your skills and experience.
The letter provides detailed information on why you are qualified for the job you are applying for. Don't simply repeat what's on your resume -- rather, include specific information on why you're a strong match for the employer's job requirements. Think of your cover letter as a sales pitch that will market your credentials and help you get the interview.
If an employer requires a cover letter, it will be listed in the job posting. If not required, it is still acceptable to submit a cover letter with your job application.
Cover Letter Tips Before you Get Started
Cover Letter "Do's"
Do express interest within the job position
Do utilize Times New Roman or Arial font style (11 or 12 point font size)
Do format your cover letter like a professional business letter
Do submit a cover letter for both full-time and part-time employment opportunities
Do keep it short and simple. A cover letter should not go over one page
Do address the letter to a specific person
Cover Letter "Don'ts"
Do not repeat all information provided on your resume
Do not include expected salary requirements
Do not explain employment gaps on your resume
Do not include work schedule availability
Do not indent paragraphs
Do not use a generic greeting such as, "To Whom It May Concern"
Parts of a Cover Letter
Contact Details - Name, Address, Contact Number, and Email Address. This information should match resume
Date - Month, day, year should always be included
Recipient Contact Details - Full name and title of person receiving the letter along with complete address included below the date
Salutation - Dear Mr./Ms. (last name):
Introduction and Body - Around 3 paragraphs is ideal
Closing and Signature - Type 'Sincerely' then strike the Enter key twice and type your name
The Introduction: One Paragraph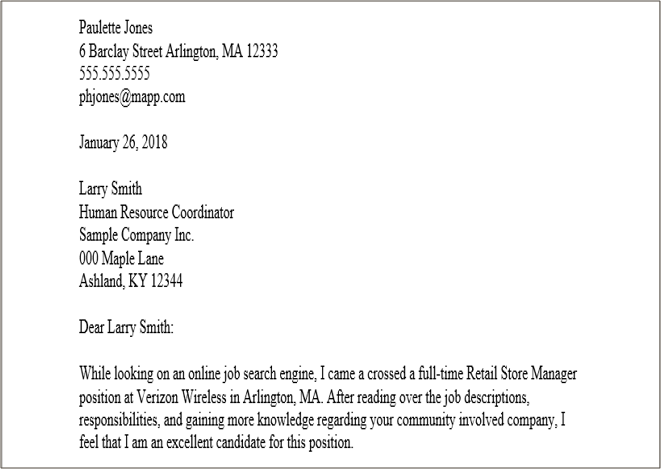 The introduction should grab the reader's attention
Begin your introduction by stating how you learned about the position and what job you are applying for
Briefly mention how your skills and experience match the company and/or position; this will give the employer a preview of the rest of your letter
Ideally, your introduction should not exceed 3-4 sentence.
Remember, paragraphs should not be indented throughout a cover letter
The Body: One to Two Paragraphs
In a paragraph or two, explain why you are interested in the job and why you make an excellent candidate for the position.
Mention specific qualifications listed in the job posting, and explain how you meet those qualifications.
Do not simply restate your resume, but provide specific examples that demonstrate your abilities.
Closing and Signature
Closing: In the closing section of your cover letter, restate how your skills make you a strong fit for the company and/or position.
State that you would like the opportunity to interview or discuss employment opportunities. Explain what you will do to follow-up, and when you will do it. Thank the employer for his/her consideration.
Signature: Use a complimentary close, and then end your cover letter with your signature, handwritten, followed by your typed name.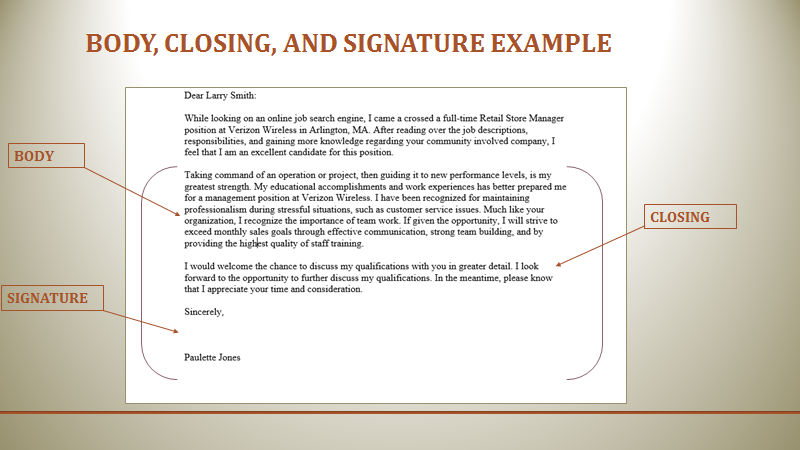 ACTC Career Services Center
(606) 326-2231 OR (606) 326-2111
The Career Services Center offers educational programs including career exploration, resume/cover letter completion, interview preparation skills, job searches, soft skills development, internship opportunities, and a Work Ready Certification Program.
Please Contact Career Services Staff:
References
CareerOneStop. (2016, November 08). Retrieved January 01, 2018, from https://www.careeronestop.org/JobSearch/Resumes/ResumeGuide/SampleResumeWalkThrough/work-experience.aspx
Doyle, A. (2017, February 15). What is an Applicant Tracking Systems (ATS)? Retrieved January 02, 2018, from https://www.thebalance.com/what-is-an-applicant-tracking-systems-ats-2061926
Retail Sales Associate Resume Samples. (n.d.). Retrieved January 02, 2018, from http://www.jobhero.com/resume-samples/retail-sales-associate/