CDL program sees first female grad
August 3, 2021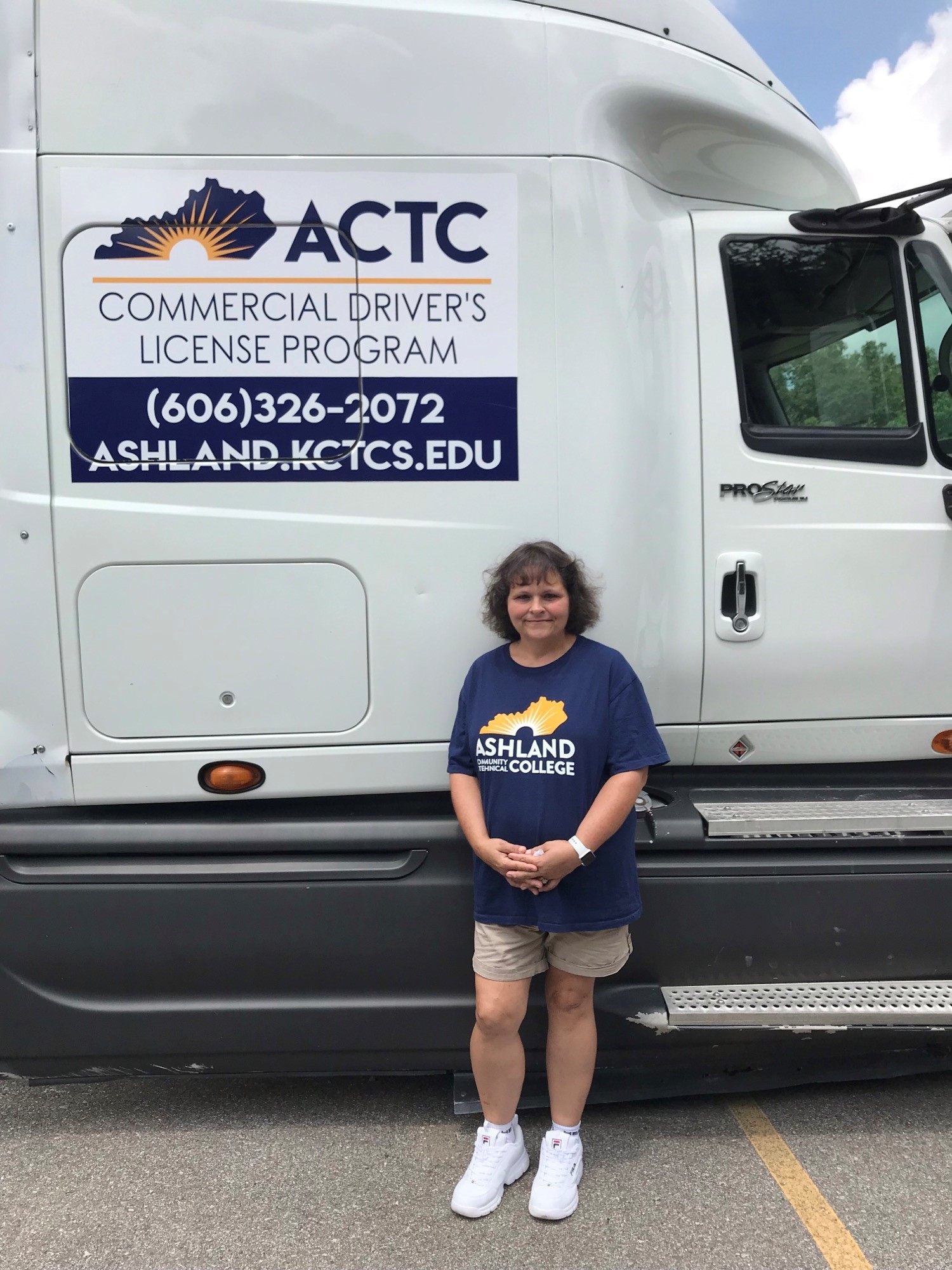 ASHLAND, Ky. – Tammy Jenkins says she always wanted to drive a semi.
"It's something I have wanted to do since I was seventeen or eighteen," she said. "But you know how it is. I had kids and it just got put on the back burner. Now they are bigger, I wanted to do something for me."
Jenkins graduated from the CDL program offered through Ashland Community and Technical College's Workforce Solutions on July 8.
She says she is currently working on earning her endorsements and already has her Transportation Worker Identification Credential, or TWIC, card. This card is required by the Maritime Transportation Security Act for workers who need access to secure areas of the nation's maritime facilities and vessels.
There are multiple endorsements that can be earned along with a CDL, including double/triple trailers, tank vehicles, hazardous materials, combination of tank and hazardous materials, school bus, and operating a vehicle that carries a specified number of passengers.
"I want to have all my endorsements so I can work anywhere," said Jenkins.
She says the convenience of the program, specifically its location, is what drew her to the CDL program at ACTC.
She was also able to receive a partial scholarship to the program thanks to money Workforce Solutions received from the Governor's Emergency Education Relief Fund earlier this year.
"Receiving a scholarship to pay for this training was definitely helpful," she said. "It's a wonderful program with great instructors. They are always willing to help you out. They are the best."
Jenkins is the first female to complete the program, something instructor Bill Caudill says has been a long time coming.
"It seems like women are a little hesitant about enrolling in the program because being a truck driver has traditionally been seen as a man's job," Caudill said. "That's just not the case anymore. Women are just as able to work in this field as a man."
Jenkins says being the first woman to complete the program is something she takes great pride in.
"If I can do it, anyone can," she said. "I would definitely encourage all the girls out there to consider it."
ACTC offers Class A CDL training. This course is designed for individuals with little or no commercial driving experience. The program includes all the learning tools needed to pass the Class A CDL driver's test. Students will receive 40 hours of classroom training and 120 hours of "on the road" training.
Call 606-326-2072 or email AS_Workforce@kctcs.edu for more information.