ACTC Business Administration mentorship provides real-world experience
Feb. 9, 2021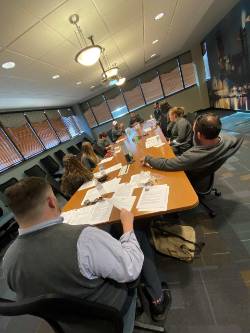 Mentees discuss and learn about the roles of management in multiple departments across the credit union and how those skills can be used interchangeably in different fields. Submitted by MCCU.
ASHLAND, Ky. – Four students at Ashland Community and Technical College (ACTC) are receiving an invaluable opportunity as part of a four-year-long partnership between ACTC and Member Choice Credit Union (MCCU).
Darrell Mahan, Loran Patterson, Alexis Smith and Dean Kitchen are each completing a semester-long mentorship with the Ashland-based business as a part of their enrollment in the Business Administration program at ACTC.
Rebekah Michael, program coordinator for the Business Administration program, says the mentorship program isn't a required part of students' educational experience, but is one that is highly encouraged.
"I have a lot of students in my program, and they come from all walks of life. Some are nontraditional, some are fully online, some are young and inexperienced. We offer lots of great credentials and pathways to success, and I view internships as another fantastic option to gain experience and form professional relationships while earning college credit," she says.
Students have varying responsibilities during their mentorship, but there is a large emphasis on learning soft skills, such as punctuality and communication.
"This mentorship grew out of two simultaneous conversations we were hearing in the community a few years back," says David Deborde, who is mentoring the students at MCCU. "The first, from employers, was the difficulty in finding quality workers. It seemed that they were having problems finding people to do things that were taken for granted a decade ago, such as showing up on time, communicating and dressing in a work-appropriate way," he said.
He added, "On the flip side, we were hearing from young adults that many jobs required at least some experience and that the younger generations really didn't have the opportunity to "learn" how to act in the way most businesses expect them to act."
That's when the partnership between ACTC and MCCU began.
Alexis Smith, one of the students in the program says she and her peers have learned the importance of dressing and acting appropriately on the job and how important flexibility and communication are. She also believes she will be very prepared to enter the workforce at the end of the mentorship.
"Getting this mentorship meant everything to me, because as somebody with very little experience, it provides me with something to put on a resume," she said. "Not only that, but it provides me with some insight on what I want my future to look like and where I want to go in life which is what I had hoped to accomplish here."
Both Deborde and Michael celebrate the partnership between the two institutions and the experience students are able to have when they participate.
"We are big fans of working with ACTC because when we think about the future workforce, the young men and women at ACTC are getting a quality education in fields that are actually in demand in society," said Deborde. "As a financial institution, we appreciate even more that they can get this education at a reasonable cost. Each of the students we've had has been in their business program, so we try to make connections with that curriculum as much as possible when putting a mentorship schedule together."
"Our partnership with MCCU and David Deborde is really exciting because our students not only get to job shadow and learn skills that they can apply to their careers, but they also get to discuss personal finance, networking, project development and management and they complete academic assignments like book reports and response papers and participate in mock interviews," Michael added.
Although MCCU and other partners do not guarantee that internships will lead to full time work, Michael says it is common that they give ACTC interns consideration when full time positions open up.
"This mentorship is giving me a great opportunity to secure a job once finished, whether that be with Members Choice, or another company outside of Members Choice," says Darrell Mahan, a student in the program.
Another student in the mentorship program, Loran Patterson, says she hopes to build connections and end the internship with a career.
"I'm just very grateful to have gotten this opportunity and I'm glad the school offers this for students like me," she said.
Michael says she is continually looking for new businesses to partner with for the mentorship program.
"We have such an interesting local business community, and I am looking forward to cultivating connections with as many businesses as I can. My students are fantastic, and connecting them with the right internships could make a world of difference for their futures," she said.
Dean Kitchen, a student participating in the mentorship, encourages prospective students to consider joining the program so they can have a similar experience.
"Every moment of it has been meaningful and inspiring, but also challenging in a good way. I encourage everyone to always chase after their dreams, no matter how silly they may seem to everyone else," he said.
The Associate in Applied Science degree in Business Administration combines foundational business courses and general education courses, and ACTC students choose a track to develop focused knowledge, skills, and expertise in Accounting or Management.
For more information, visit https://ashland.kctcs.edu/education-training/program-finder/business-administration.aspx or email Michael at rmichael0005@kctcs.edu.