Adulting 101: Scheduling Appointments
Grab a snack, you're in for a treat, Pathfinders. Today I want to talk about something that can be a little bit scary as you grow up and start taking on more responsibilities: scheduling your own appointments. Trust me, I get it – when you're used to your parents handling all of your healthcare appointments, haircuts, and everything in between, it can be tough to know where to start when it comes to making appointments for yourself. But with a little bit of guidance, you'll be a scheduling pro in no time!
First things first, you'll need to figure out what kind of appointment you need to make. Is it a regular checkup with your doctor, a cleaning with your dentist, or a haircut with your stylist? Each type of appointment will have its own requirements and scheduling options, so make sure you know what you need before you start making calls or filling out online forms.
Next, you'll want to figure out what times work best for you. If you're in college, chances are you've got a pretty busy schedule, so you may need to do some juggling to make sure you can fit in your appointment. Be sure to check your class schedule, work schedule, and any other commitments you may have before you start scheduling.
Now comes the fun part – actually making the appointment! Even if you have social anxiety, we'll walk you through it. You'll want to have all of your information handy, including your insurance information if you'll be using it. If you're making an appointment over the phone, be sure to speak clearly and have a pen and paper handy to write down any details or instructions – and, as a pro-tip, if you're booking online, make sure you're using a secure site and that you're entering all of your information correctly.
Finally, make sure you mark your appointment down on your calendar or in your phone so that you don't forget. If you're nervous about forgetting, set a reminder for yourself a day or two before your appointment so that you have time to reschedule if necessary.
Scheduling your own appointments can feel daunting, but with a little bit of preparation and a lot of confidence, you can handle it like a boss.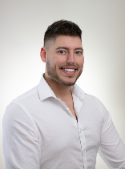 Brock Chandler is the graphic designer and a social media content creator for Ashland Community and Technical College and is obtaining his Bachelor's in communications at Ohio University. Life lessons he has experienced along the way offers an open dialogue through this blog to discuss wellness, self-care, study tips, and other topics that are not limited to college students but are applicable to all people.