Riverside Drive
Living in the tri-state gives us the amazing opportunity to live right on the beautiful Ohio River. Sometimes I find myself taking it for granted. I can walk out on my front porch and have a direct view of the beautiful waters that flow from Pennsylvania to Illinois, and I am just a young adult somewhere in between, but it is not just somewhere, it is my home.
I live in a quaint little town known as Greenup, Ky that is located right on the river. I often catch myself being captivated by the river. The beautiful reflection of the moon at night or the cotton candy colors of the sky in the mornings are what always catch my eye and make me stop and think "wow, I live here." It is therapeutic to sit on my front porch and just watch. Watch the boats float by or the fish jump from the water. Summertime is my favorite because you can go out on the river, people boat, tube, and jet ski. On the 4th of July there are hundreds of boats on the river all over watching the fireworks that not only we put on but neighboring areas as well. People are so happy. The river has that effect on people. It is calm yet brutal at the same time.
The river is not the only special thing about the street, Riverside Drive, that I am so fortunate to live on, it is the people, the community of Greenup. Everyone knows everyone, which sounds awful to some, but to me it is a blessing. I have an entire community that is here for me at any time if I need. Often in the summer you can look out your window and see kids on bikes or people taking an evening ride on their golf carts. People wave and smile even if they do not know who you are. They are welcoming and kind. During holidays, the streets are lit up with Christmas decorations and people decorate their golf carts and boats for a parade. There is always someone dropping off homemade fudge and other holiday treats that makes you throw away the diet you promised yourself you would start tomorrow, but that is okay. It is not just a community; it is a family.
Greenup is the type of place you want to settle down and start a family in, the type of place where when you lose a loved one the entire town comes together and brings you food or anything else that may bring you some sense of comfort, the type of place that just feels like home. So, one day, if I ever decide to move on from Riverside Drive, I hope I come back. I want my future kids and grandkids to feel the same sense of home that I do right now.
"I take with me Kentucky, embedded in my brain and heart, in my flesh and bone and blood. Since I am Kentucky, and Kentucky is a part of me." -Jesse Stuart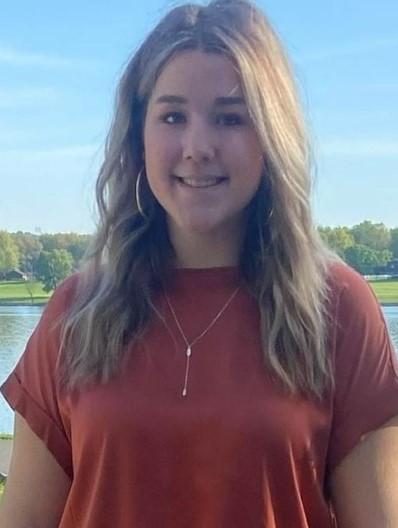 Claire Jordan resides in Greenup, Kentucky with her grandmother. She is a current student at Ashland Community and Technical College and is in her second semester of college. She is a 2021 graduate of Ashland Paul Blazer High School. She plans to further her education next year at Morehead State University.