Winter Session courses being offered at ACTC
Nov. 4, 2020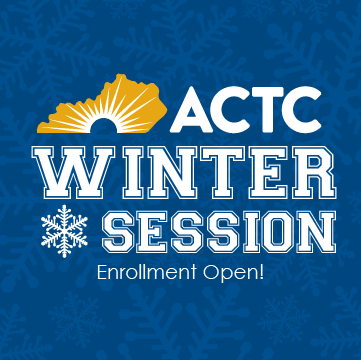 Ashland Community and Technical College will once again be offering a four-week winter session for students seeking another option for earning class credit.
Registration for winter term is open. Classes begin on Dec. 14 and end on Jan. 10.
General education classes offered include: Introduction to the Humanities, Technical Algebra and Trigonometry, Trigonometry, Technical Mathematics, American Government, General Psychology, Developmental Psychology and Introduction to Sociology.
All of the above classes will be offered online, with the exception of Technical Math, which will be offered in-person at Technology Drive.
Multiple welding courses are being offered as well.
Registration for spring classes, which begin Jan. 11, is also open.
Students who wish to enroll in a winter or spring course should contact their assigned advisor or as_advisors@kctcs.edu.
To apply for admission, visit https://ashland.kctcs.edu/admissions/start-your-application/ACTC offers a wide range of financial aid programs. Students must first complete the Free Application for Federal Student Aid (FAFSA) to determine what types of financial aid they qualify for.
By submitting the FAFSA, students can [ATD(1] become eligible to receive grants, loans or work study to help fund their studies. The FAFSA is free to submit and available online, and every college student should submit it every year. The deadline for the FAFSA varies, but some aid is first come, first served, so it's best to submit it early.
To learn more about the FAFSA, visit www.ashland.kctcs.edu and click "Affording College."
Written by Megan Smedley, ACTC eLearning Support Specialist