ACTC announces President's List
Aug. 8, 2020
(LAST UPDATED ON AUG. 28, 2020)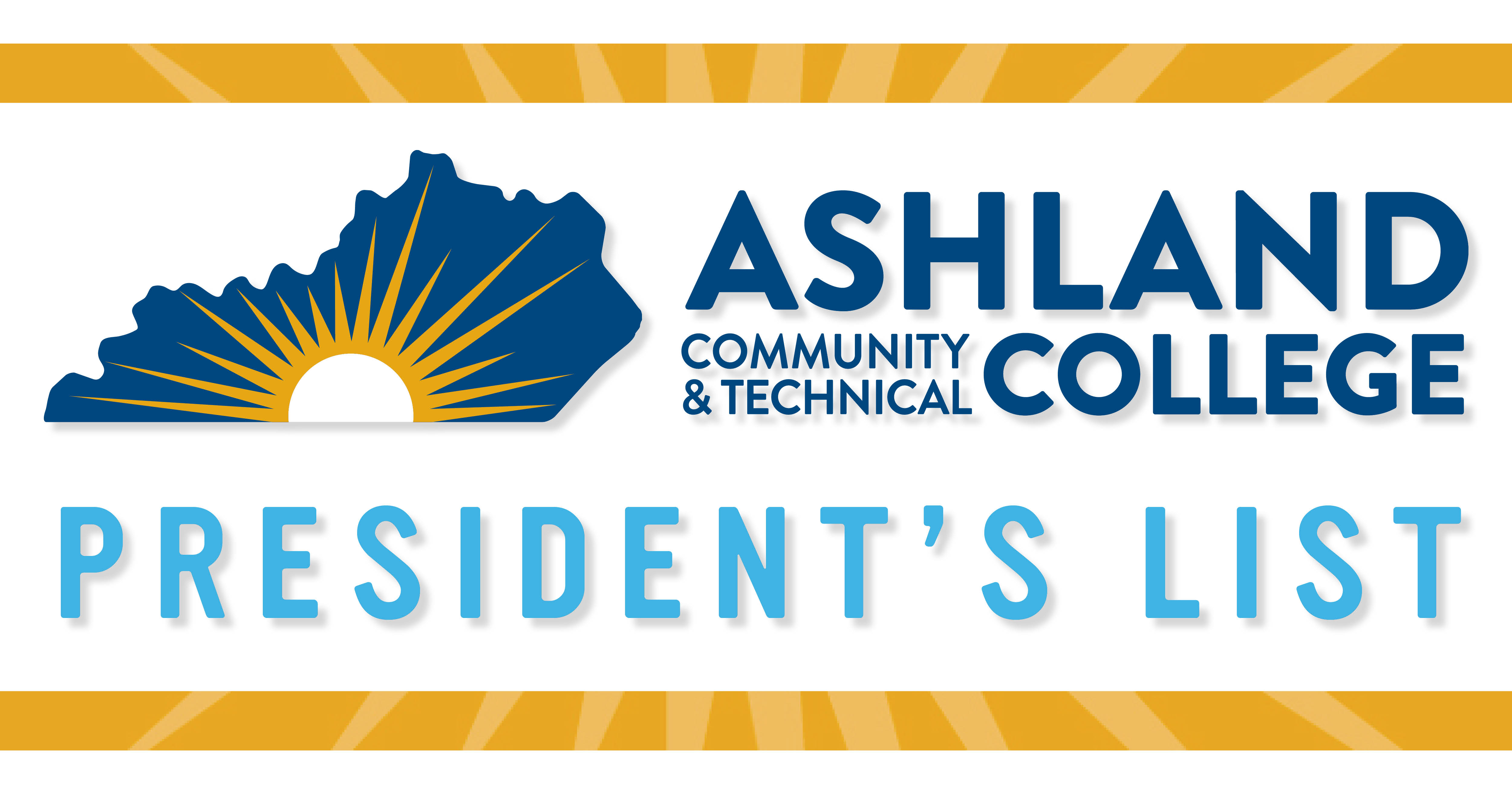 Ashland Community and Technical College has named 226 students to the President's List for the spring 2020 semester. To be eligible for the president's list, a student must earn a perfect 4.0 grade point average and successfully complete at least 12 KCTCS semester credits of course work numbered 100 or above (excluding any courses considered developmental and without withdrawing from a course)
The students are listed below by state and city of residence.
KENTUCKY STUDENTS
ARGILLITE: Heaven Adaire Brown, Rachel Michele Brown, Cortney Clarke, Jonathan Allen Giles, Zabeian Aaron Russell Hickman, Richard Joe Mendez, Terry Dwayne Salley, Amelia Noreen Ward and Kevin Andrew Wolf.
ASHLAND: Bianca Marcela Aparicio, Heath W. Baker, Nekoda Steven Banks, Braeden Wayne Barker, Joshua Jacob Becker, Michael Clayton Bradley, Sarah Brandenburg, Sydney U. Brewer, Bryanna Larae Castle, Dylan Y. Clevenger, Robert Andrew Conrad, Tristin Thomas Conrad, Ross Daugherty, Amber Danielle Douglas, Cassandra Shea Ferguson, Shelby-Kaye Elizabeth Foutch, Jake Hall, Kristina Halm, Donald Ray Hendricks, Ethan Graham Hicks, Andrew D. Hoback, Corrie Holden, Caleb Matthew Hunt, George Dean Jervis, Breanna Shai Johnson, Constance Jeanette Jones, Cody Blake Layne, William Conner Lemaster, Caitlyn Hannah Lindsey, Timothy Andrew McKinney, Tyler Aaron McKnight, Nicole Michelle McLaughlin, Carley Danielle Mooney, Eric Todd Moyers, Andrea Michelle Murphy, Christina Diane Nease, Melissa Sueann Penick, Cassie Lorene Perkins, Aaron Porter, Victoria Vanessa Reed, Jason Reffitt, Ryan Hunter Renfroe, Isaac Aaron Stanley, Wesley Arron Stark, Brooklyn Michelle Webb, Hunter Alan White, Henry Oliver Wilburn, Lelia J. Williams, Katlyn Lee Withrow, Laurel Rhae Hensley, Derek Raybourn and Michael Ray Sammons.
BLAINE: Lana Starr.
CATLETTSBURG: Richard Adkins, Sean David Bishop, Austin Ryan Easterling, Amy Louise Hale, Alexandria Litton, Lauren Hastings Luttrell, Joylene Stroud, Kyleigh West and Tiffany Dawn Worrell.
FLATWOODS: Daniel Curtis Adkins, Jennifer Brianne-Hope Downey, Dalton Tyler Elliott, Brianna Rose Evans, Hannah Leigh Foos, Jason Paul Galvin, Rachel Leigh Halterman, Tyler David Hensley, Alley Hylton, Jacob Massie, Barrett Clay McDavid, Jovan Marcos Sanchez and Seth Ryan Stone.
GARRISON: James Roger Montgomery, Carolyn Marie Neace, Brandon Eugene Cooper, Candice Cooper and Alisha Dawn Montgomery.
GRAYSON: Tarry Micah Adoptante, Marissa Bloemer, Steven Michael Clark, Jessica Danielle Colley, Chrystina Danielle Combs, Kayla Beth Day, Jerry Denton, Coleena Ann Elam, Skylar Brianne Felty, Alexis Michele Griffith, Logan J. Hall, Patricia Faye Hall, Daniel Hickey, Shane Allen Johnson, Ryan Dikota Jones, Somkiet Kiser, Carra-Janae Grace Layne, Megan Lynne MaGruder, Caden Grant McDavid, Cody Wayne McDavid, Alysha Nycole McWhorter, Caitlin Beth Mulkey, Aubrey Laurel Rice, Teresa Rogers, Tabitha L. Skaggs, Shawnda Gail Stamper, Scott Stanisky, Haley Renei Stephens, Mason Alexander Tomaselli, Jeanette Lynn Victory, Megan Taylor Williams, William Tyler Woods, Garry L. Yates and Charles Devon Bradford.
GREENUP: Parker Harrison Ball, Mark Dylan Blevins, Rachel Lucille Boles, Cody Darrell Braden, Ashley Dawn Brown, Michael Jason Carr, Michael Patrick Coffee, Teresa Coffee, Christie Marie Grubb, Jennifer A. Kazee, Kevin Kingslien, Luke Charles LeMaster, John Miller McGinty, Amanda Logan Russell, Susanna Kristin Russell, Zachary Edward Spears, Abigail Darlene Stephens, Tiffany Waddell and Charles Anderson Williams.
HITCHINS: Kody Dean Hutchinson.
LOUISA: Heather Renee Brown, Todd Chapman, Julie Michelle Cooksey, Michael Kyle Cordle, Aron Fugitt, Robert Edward Johnson, Emma Suzanne Preece and Brayden J. West.
MOREHEAD: Richard Proudfoot.
OLIVE HILL: Matthew Thomas Bowling, Kody Garrett Cline, Milton Edward Henderson, Angela Sara Katherine Jones, Caleb Dalton Kilgore, Cameron John Kiser, Tori Briana Lowe, Brooxie Lucas, Shane Dustin Salley, Brody Kyle Sparks, Hallie DeNae Sparks and Charles Haskett.
RACELAND: Stephen Thomas Adams and Tonya Sue Winn.
RICHMOND: Sean Daniel Christman.
RUSH: Berkley Weston Dennison, Nancy Leanne Godbey, Jonathan Hamrick, Loran Elizabeth Lynch, John William Sweeney and Emma S. Valle.
RUSSELL: Taylor Frazier Barney, Michael Todd Breen, Charles Jerald Filbin, Dana Russell Gillispie, Shelby Ann Jones, Camryn Ashley Ratliff, Deidre Paige Rice, Eric Shane Robinette and Thomas Blake Stevens.
SANDY HOOK: Jacob Zachary Davidson, Tanner Scott Dickerson, Curtis James Justus, Brian Keith Laney, Austen Blake Nickell, Krista Leighann Smith, Spring Spurlock and Sierra Faith Tolliver.
SOUTH SHORE: Charles Franklin Bachor, Joshua Graham Liles, Chloe Nance and Joseph H. Toller.
WEBBVILLE: Constance Lynn Howard and Rachel V. Marcum.
WORTHINGTON: Dru Hunter Elliott and Bryce Wayne Wellman.
OHIO STUDENTS
CHESAPEAKE: Derik James Berry, McKenzie Dunfee, Kelton Thomas Jones and Joshua Ryan Kettel.
COAL GROVE: Frank McCann.
IRONTON: Hope Collins, Tyler Gregory Damron, Matthew Cvell Thomas and Logan Dallas Whitt.
KITTS HILL: Lacey Faye Estep.
PEDRO: Justin Evan Turner.
PORTSMOUTH: Julie Ann Lockhart.
PROCTORVILLE: Brandon Ray Bowman, Carol Nicole Haugen and Richard Spaulding.
SOUTH POINT: Jamie Lauren Berent and Andrew David Shafer.
WEST PORTSMOUTH: Jason Swords.
WHEELERSBURG: Chelsea Renae Pierce.
WEST VIRGINIA STUDENTS
CRUM: Benjamin Dillon.
FORT GAY: Emily Marie Roman.
GENOA: Shawn Nelson Porter.
HUNTINGTON: Jacob Stephen Cummins, Joseph Robert Hay and Jack Darren Pruitt.
KENOVA: Anna Clay.
LAVALETTE: Ashton Summer Welker.
POINT PLEASANT: Rhett Charles Lanier.
PRICHARD: Brittany Taylor Pack.