ACTC announces Dean's List
Aug. 1, 2020
(UPDATED ON Sept. 11, 2020)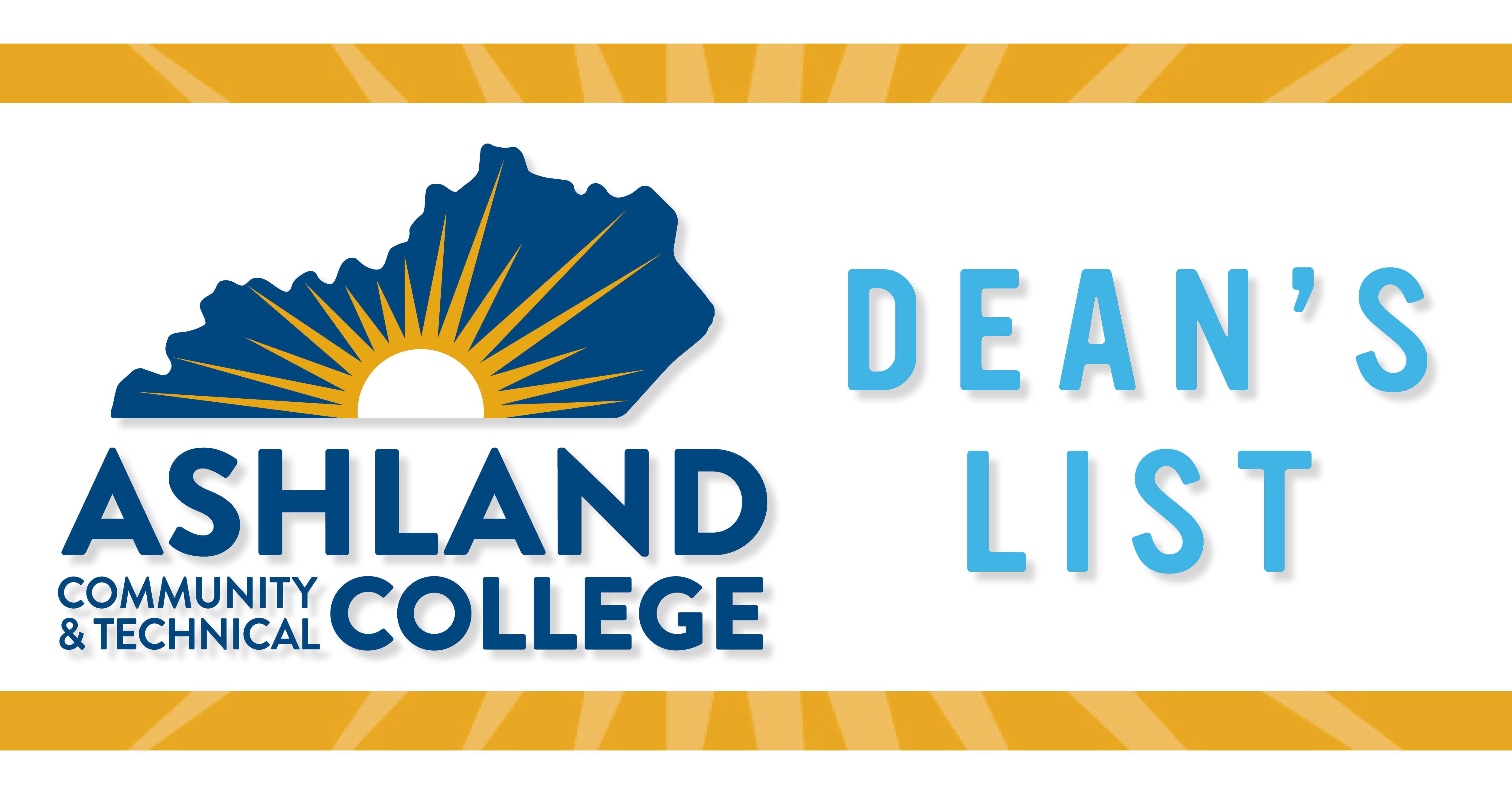 Ashland Community and Technical College has named 214 students to the Dean's List for the spring 2020 semester. To be eligible for the dean's list, a student must complete at least 12 semester credits (of 100 level courses or above) or more for the semester and earn at least a 3.5 GPA for the semester. The students are listed below by state and city of residence.
KENTUCKY STUDENTS
ARGILLITE: Terry Brandon Burton, Kayla Morgan Evans, Chad Calbert Grooms, Corey Robert Kouns and Corlie Michelle Williams.
ASHLAND: Charles Herbert Blankenship, Aujanae Yvone Bohanna, Zachary Alan Lee Bowen, Austin Craig Brinegar, Madalon G. Burnside, Brittney Laken Campbell, Hannah Leigh Caudill, Jessica Caudill, Dianna Chapman, Avery Lynn Childs, Desiree Cooke, Adam Jeffery Cornette, Aaron Joseph Creech, Johnnie Renee DeBoard, Kierstin Dillard, Peyton Marie Dillow, Kristin Shea Donta, Brandon Cody Estep, Jarrell Evans, Sean Michael Farrington, Raymond Channing Fields, Gabriel Flores, Michael Jacob Foraker, Garrett Jordan Fraley, Rebecca Victoria Gannon, Shannonmarie Gochenouer, Kristen L. Greene, Spencer Meredith Greene, Jacob Dylan Gullett, Jonathan Scott Haffer, Winston Bradley Hall, Krystle Hamm, Katelyn Nicole Hannah, Cranston Colby Hill, Seth F. Hunt, Hannah Marie Hupp, Brandon L. Jackson, Jeffrey Joe James, Jessica Anne Johnson, Morgan Kenser, Tiffany Anne Kiwabonga, Savannah Lea Lambert, Gabriel Thomas Lowe, Taylor Brooke Marie Lucas, Brooklyn Paige Marshall, Charline Reane Mayse, Brent Matthew Misbach, Bonnie Rebecca Moore, Hollie Renae Sipps, Adam Lucas Sizemore, Jordyn Gregory Smith, Ryan Smith, Angela Spara, Teresa Lynn Stambaugh, Amber L. Stevens, Kevin Matthew Stewart, Gharan Andrew Thomas, Joshua K. Vanderpool, Roman Nicholas Vargas Arellano, Jordan William Daniel Wolfe, Roger P. Workman and Taylor Niecolle Young.
BRANCHLAND: Emily Don Beckett.
CATLETTSBURG: Sara Elizabeth Barber, Evan M. Bond, Emily Nicole Borders, Jacob Austin Grubbs, Miranda Lorraine Hammond, Mary E. Kress, Cody Allen McDowell, Lucas Jordan Messer, Brittany Nicole Moore, Hannah Michelle Moore, David Bryan Porter II, Jamison Levi Simpson and Timothy Ryan Sloan.
FLATWOODS: Jade Aguilar, James Russell Belcher III, Austin Blake Clifton, Casey Cordle, Breanna Elizabeth Craft, Benjamin Joseph Lemaster, Hollie K. Lusk, Zachary Kyle McMeekin, Damon Lee Menshouse, Kelsea Michelle Queen, Dylan Charles Roar, Michael Brandon Salyers, Brandon Lee Scott, Darien M. Stinson, Joshua A. Suiter, Stephanie Virginia Tomlin, Brandy L. Vanderpool and Erik Nathaniel Woods.
GARRISON: Phoebe Elizebeth Allen and David Maggard.
GRAYSON: Derrick Michael Bradley, Tina Marie Broughton, Zane Alden Burnett, Carla Gail Bush, Amy J. Conn, Stephen M. Horton, Lashawna Miller, Courtney Renee Mulkey, Joshua Steven Rhoden, Joshua Nathaniel Salmons and Gilbert Brandon Witter.
GREENUP: Rachel Leighann Akers, Christopher Duane Archey, Damon X. Black, Misty Lynn Carr, Parker Alan Clarke, Justin Lee Douglas Foody, Travis Ryan Greathouse, Leslie A. Knipp, Eric Michael Moore, Alexis Marie Neiling, Wanda Elizabeth Palmer, Cameron Ross, Ronnie Lee Wayne Rowe, Olivia Ann Scaggs, Wesley Clay Stephens and Andrew Christian Zabrieszack.
HITCHINS: Samantha Mae Holbrook.
ISONVILLE: Jessica Ann Gilliam.
LEXINGTON: Baylee Michelle Ford.
LOUISA: Abigail Faye Adkins, Tori Lynn Boggs, Sabrina Bowling, Chelsey Dawn Leeann Fields, Makala M. Fields, Stephanie L. Hale, Jessica Moran, Natalee Mae New, Halie Paige Rosser, Wendy Ann Shannon and Rhonda Vance.
OLIVE HILL: Ashley Lauren Adkins, Christopher J. Bradley, Adam Kade Flanery, Courtney E. Hedge, Quenna Kelsey, James Wayne Lewis, Rachel Marie Reeder, Zackary Charles Ruley, Chaz Tylar Steagall, Andrew Chase Stone and Caleb Wyatt Sturgill.
QUINCY: Tyler Hardin and Adam G. Rhoden.
RUSH: Jeremy Michael McKenzie, Chyna Nichole New, Deborah Quinn, Alexis Hope Smith and Jarett Thomas.
RUSSELL: Caleb Stephen Berry, Jacob Masters Berry, Millard Fluty, Brooke France, Karlyn Marie Hanford, Janet Louise Holbrook, Britanee' Dawn Manifold and Lakie Susannah Sanders.
SANDY HOOK: Gage Alan Evans, Chauncy Jay Bryce Griffith, Matthew Roger Holmes, Connor Robert Howard, Hannah Marie Howard, Noah Thomas Lewis, Austin Dean Porter and Michael Travis Whitt.
SHELBY GAP: Devon White.
SOUTH SHORE: Mark Anthony Boggs, Haley Haywood and Dustin Joseph Lamblin.
TOLLESBORO: Jonathon Trace Tolliver.
WALLINGFORD: Morgan Page Foster.
WILLARD: Hailey Nicole Sexton.
WORTHINGTON: Kaylee Danielle Bradley and Brianna Shae Minnehan.
WURTLAND: Joshua Caleb Fenney, Elijah Wade Morrison and Abagail Leighann Stone.
OHIO STUDENTS
CHESAPEAKE: Victoria Gullett.
COAL GROVE: James David Reynolds.
FRANKLIN FURNACE: Ian Robert Salyers, Tyler James Thornton and Jonathan
Andrew Vale.
IRONTON: James Colegrove II, Richard Crockrel, Chad Michael Garris, Kayla Lynn Hackworth, Saxton H. Hughes, Mikkael Dustin Ison, Arica Nichelle Johnson, Gregory Hunter Klaiber, Jonathan William Maynard, Derik Austin Neace and Mila Vaughn.
PROCTORVILLE: Faithanna Kay
SOUTH POINT: Joshua Allfrey, Hailie Leigh Greene, Bridgette Larae McLendon and Joseph Eugene Merrill.
WEST PORTSMOUTH: Timothy Allen Thompson.
WHEELERSBURG: Jessica Stafford.
WEST VIRGINIA STUDENTS
FORT GAY: Austin Gage Anderson and Haley Andromeda Jones.
HUNTINGTON: Jonas Kaden Brumfield and Craig Edward Reid.
KENOVA: Nichelle Campbell, Erin Renee Hale and Whitney Rose Reynolds.