ACTC MIT professor recognized for online instruction
June 11, 2020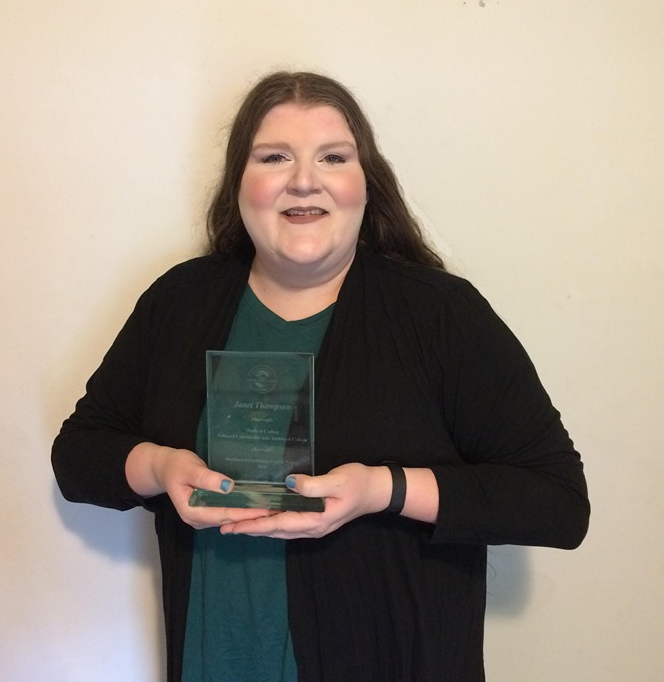 ASHLAND, Ky. — Janet Thompson, program coordinator of the Medical Information Technology Program at Ashland Community and Technical College, recently received an Exemplary Course Program (ECP) award from Blackboard Inc.
The Exemplary Course Program recognizes instructors and course designers whose courses demonstrate best practices in four major areas: course design, interaction and collaboration, assessment and learner support. Submitted courses are evaluated by a peer group of Blackboard clients using the Exemplary Course Program Rubric.
"I'm thrilled to have received an Exemplary Course Program award from Blackboard," Thompson said. "The process of submitting my course for review motivated me to make the best online learning experience possible and become a better teacher. I decided to redesign one of the most difficult classes I teach, Medical Coding I, to meet all areas outlined in the Exemplary Course Program rubric, which includes items scored in content presentation, learner engagement, learner support and assessment, among other areas. I encourage faculty to consider using the ECP rubric as a guide in planning your courses and also consider submitting your course for review in the program."
The Blackboard Exemplary Course rubric is one of the measurements and course evaluation tools ACTC has adopted to ensure quality online instruction. Thompson also participated in the inaugural KCTCS Optimizing Online Learning (KOOL) Academy, which is a 12-month facilitated program. The program is led by the Online Learning Department at KCTCS and instructional experts from various KCTCS schools, including Ashland.
Those interested in participating in the academy must first go through an application process. The KOOL Academy consists of various learning modules centered around best practices for quality online course design, as well as a four-day work retreat where immersive educational development continues. Academy participants gain a network of colleagues and collaborate various times throughout the learning modules and the retreat.
The culminating project is a quality designed course that is then submitted for review. Participants who scored an Exemplary rating after their KOOL Academy evaluation are encouraged to participate in the Blackboard Exemplary Course Program Review process which allows experts and peers external to their institution to provide a review of the course. The best of those courses submitted to this program are then eligible to receive the Exemplary Course Award.
"The KOOL Academy has been an amazing learning experience, guiding faculty through the process of course redesign, online best practices and the Blackboard Exemplary Course Program," Thompson said. "I'm grateful for the support and development from ACTC and our system office and believe our institution is at the forefront of online learning. Teaching online is becoming more relevant than ever and it's exciting to think how classroom opportunities will grow in the digital age. I strongly recommend faculty consider participating in future learning opportunities with the KOOL Academy."
ACTC's Medical Information Technology Program can be completed fully online or in a hybrid format. Students will earn an Associate in Applied Science in Medical Information Technology with a focus on one of four tracks: medical coding, electronic medical records, medical office management and medical administrative. Students may also chose to earn other certificates and diplomas simultaneously.
For more information on the MIT program, contact Thompson at janet.thompson@kctcs.edu.