ACTC professor recognized for online instruction
April 21, 2020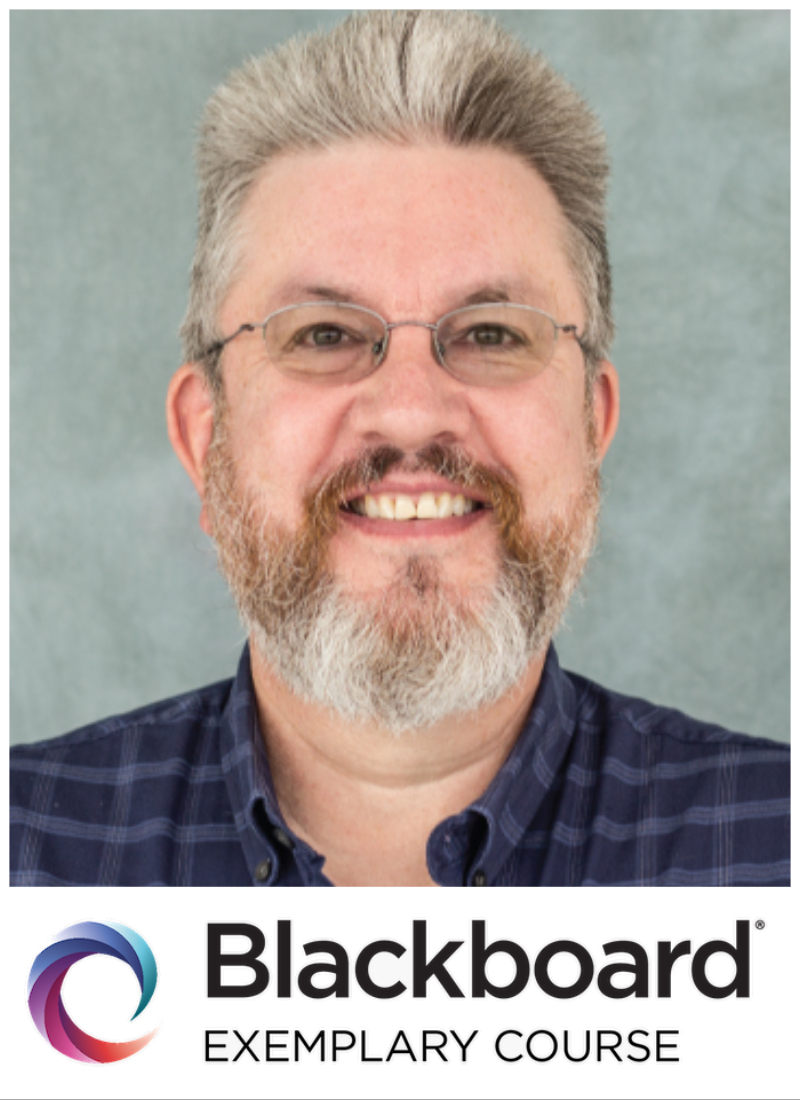 chASHLAND, Ky. — David Childress, professor of computer and information technology at Ashland Community and Technical College, recently received an Exemplary Course Program (ECP) award from Blackboard Inc.
The Exemplary Course Program recognizes instructors and course designers whose courses demonstrate best practices in four major areas: course design, interaction and collaboration, assessment and learner support. Submitted courses are evaluated by a peer group of Blackboard clients using the Exemplary Course Program Rubric.
"I am very honored to be the first faculty member at ACTC to earn the Blackboard Exemplary Course Award," Childress said. "For some time, I had wanted to make my online courses as good as they could be for our students by following the rubric created by Blackboard, Inc. that follows best practices created by faculty who teach online. I am pleased that my course was determined to meet the exemplary criteria. I try to continually improve my online courses."
The Blackboard Exemplary Course Rubric is one of the measurements and course evaluation tools ACTC has adopted to ensure quality online instruction. Childress also participated in the inaugural KCTCS Optimizing Online Learning (KOOL) Academy which is a 12-month facilitated program. The program is led by the Online Learning Department at KCTCS and instructional experts from various KCTCS schools, including Ashland.
"I am also honored to have participated in the inaugural KOOL Academy," Childress said. "The academy presents an excellent program designed to help like-minded faculty work toward the goal of creating exemplary courses and improving courses to facilitate student learning and success. I encourage all faculty who teach online or web-enhanced courses to consider participating in future opportunities with the academy or the Blackboard ECP Program."
Those interested in participating in the academy must first go through an application process. The KOOL Academy consists of various learning modules centered around best practices for quality online course design, as well as a four-day work retreat where immersive educational development continues. Academy participants gain a network of colleagues and collaborate various times throughout the learning modules and the retreat.
The culminating project is a quality designed course that is then submitted for review. Participants who scored an Exemplary rating after their KOOL Academy evaluation are encouraged to participate in the Blackboard Exemplary Course Program Review process which allows experts and peers external to their institution to provide a review of the course. The best of those courses submitted to this program are then eligible to receive the Exemplary Course Award.
"David Childress exemplifies the traits that define excellence in a 21st Century faculty member," said Dr. Todd Brand, ACTC Dean of Academic Affairs. "As we are now beyond the adoption phase of online learning, our focus should be on the continuous improvement of this modality. By following best practices in Blackboard, as well as by enrolling in the KOOL Academy, Mr. Childress has demonstrated a commitment to this type of improvement. He should be emulated by others in this regard. We in the ACTC family congratulate him on this honor!"