ACTC, Manpower partner on Tri-State Recruitment Initiative
Feb. 26, 2020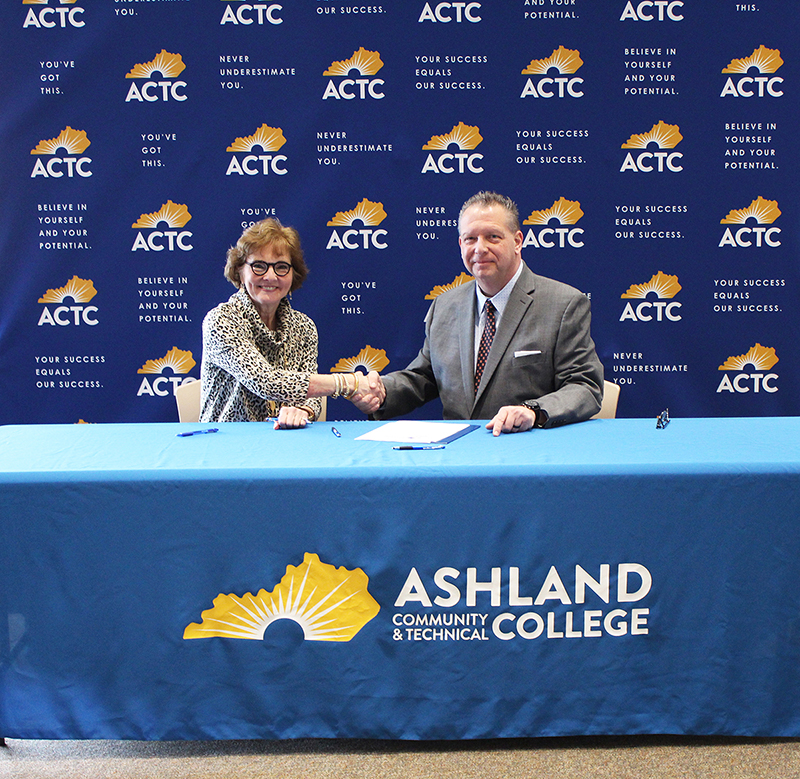 Ashland Community and Technical College (ACTC) has partnered with Manpower to give students more job placement resources before and after graduation.
Under a new program entitled, Tri-State Recruitment Initiative (TRI), ACTC and Manpower will work collaboratively to strengthen job placement candidacy for ACTC students and graduates. To celebrate the partnership, ACTC and Manpower had a public signing at the Technology Drive Campus.
"ACTC is elated to be partnering with Manpower to best support our students in securing professional career opportunities in our service area," said Dr. Larry Ferguson, president and CEO of ACTC. "We feel that their expertise in coaching our students in how to make sound career decisions as well as develop high-quality resumes and stellar interviewing skills will be extremely helpful in preparing our students for careers. We are extremely excited to have Manpower helping our students secure employment post-graduation. This is at no extra cost to ACTC students for any of these services."
Locally owned, but globally connected, Manpower is a full-service staffing and recruiting company that connects qualified candidates with regional employers throughout Kentucky, Ohio, West Virginia and beyond. Manpower has serviced the Tri-State for nearly 50 years and is well-positioned to strengthen the job outlook for ACTC's graduates.
"Creating synergies and teamwork in the community is what we're all about," said Diane Strong-Treister, president of Manpower. "ACTC provides exceptional preparation for students in a variety of skills and we feel lucky to be able to work with their upcoming graduates. Manpower is committed to strengthening the professional candidacy of ACTC's graduates and connecting them with opportunities across the Tri-State to help keep these talented professional in our local area.
Initially, ACTC and Manpower will target its effort on the more than 65 students in the Applied Process Technologies and Advanced Integrated Technology programs who are expected to graduate this May. However, Manpower's services will be available to any ACTC student who is interested in participating.
The partnership between ACTC and Manpower comes at no cost to the college or the students. TRI also provides a variety of benefits to not only students, but to local and regional employers as well. Within this partnership Manpower will offer:
• Career coaching and assistance to help students align skills with professional opportunities earlier and faster, resume assistance, mock interviews and mentorship;
• Increasing referral rate for students to gain professional introductions to key regional employers;
• Employing the students and setting them up with interviews with employers rather than just sending resumes to the employers;
• Encouraging local employers to work through the Tri-State Recruitment Initiative to showcase their commitment to regional job growth and development;
• Students will have access to additional training through Manpower's free online training portal of 4,000 training classes;
• Expanding the number of job opportunities for graduating students;
• Promoting regional career opportunities to communities across the Tri-State.
"Students are the future of our communities. We owe it to our upcoming workforce to create as many opportunities as we can to ensure the success of these upcoming graduates and the potential of our regional businesses," said Strong-Treister.