ACTC to host second annual Women, Wine, Jewels and More fundraiser
Jan. 13, 2020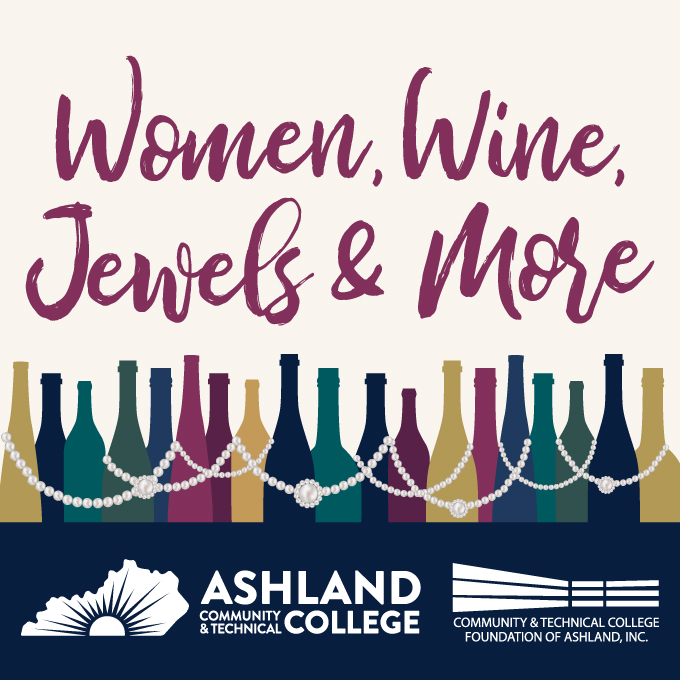 Ashland Community and Technical College's Director of Resource Development Brooke Seasor, retired Paramount Arts Center Director Norma Meek and 23 other local sponsoring hostesses invite you to attend the second annual Women, Wine, Jewels and More fundraiser to support ACTC scholarships for women.
The women-only event will be from 5:30-7:30 p.m. on Tuesday, Jan. 21 at The Jockey Club in downtown Ashland. The cost is $50 per person and includes hors d'oeuvres, live music and a silent auction for jewelry, purses and more.
Last year's inaugural event sold out and raised more than $13,000 for scholarships.
"The funds raised through this event in January 2020 will be added to last year's to create an endowment that will fund much needed scholarships in perpetuity," said Seasor. "Men can become a 'Jewel of a Guy' by sponsoring the event with $100, and businesses can become a 'Gem of a Business' by sponsoring the event with $250. Investing in this event helps the college better serve the female students in our local community."
Reservations are required and limited. Those interested in attending are asked to RSVP by Jan. 14 to AS_Foundation@KCTCS.edu or call Norma Meek at 606-831-5707.
Those wanting to help support the event can contact one of the sponsoring hostesses for information on how to become a "Jewel of a Guy" or a "Gem of a Business."
This year's sponsoring hostesses are Mayola Boykin, Holly Canfield, CJ Cieraszynski, Amanda Clark, Terri Clark, Lori Cooksey, Juanita Ditty, Brooke Elswick-Robinson, Missy Fannin, Sheila Fraley, Julie Klein, Jane Layman, Lyndi Lowman, Kim McCann, Willie McCullough, Leslee Mcleod, Ann Perkins, April Perry, Marci Prater, Pat Steen, Mae Deane Torgrimson, Heather Van Deren and Barbara Wheeler.