ACTC student overcomes obstacles; receives Build Ashland scholarship
Aug. 8, 2019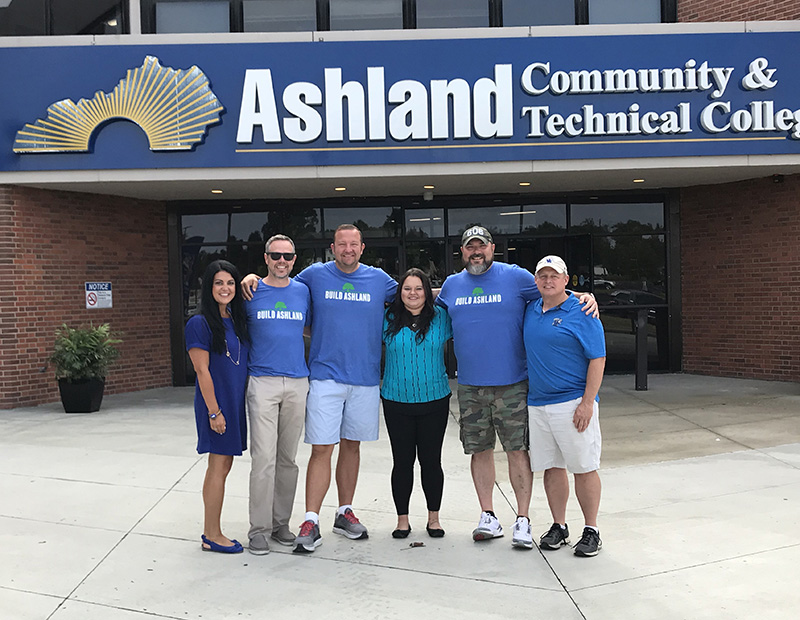 Shyann Morris, of Ashland, was awarded the Rick Ritchason Memorial Scholarship by Build Ashland.
The Ashland Community and Technical College student was chosen to receive the $3,000 scholarship because of her commitment to volunteerism and her ability to overcome adversity.
Wes Thompson, board member of Build Ashland, said there were many amazing candidates for the scholarship.
"The decision was hard, but ultimately, it was about her adversity," Thompson said.
The 24-year-old began her journey at ACTC in the summer of 2018. She will begin the Licensed Practical Nursing program this month, but getting to this point wasn't easy.
The Jackson, Ohio, native faced challenges in her teenage years, such as losing her father to drugs and having a child at age 15. Despite those hurdles, Morris completed high school, and even earned her state registered nurse aide and phlebotomy licenses during her last two years.
A few years later after falling on hard times, Morris moved to Ashland where she took steps to getting back on her feet. That included enrolling in the Kentucky Works Program which placed her at the Hillcrest-Bruce Mission where she met Mike Maynard.
Maynard, the executive director, said he was initially struck by how motived Morris was to succeed for herself and her daughter.
"She already had a goal of becoming a nurse, but living in low-income housing, having no vehicle, no childcare and no job, she wasn't sure where to start or how to start making her goals a reality," Maynard said.
Volunteering at the mission was a rewarding experience, Morris said.
"Working there changed everything," she said. "I was able to give back to my community more than I ever thought. I helped people receive food every month. I played a big role in helping hand out Thanksgiving baskets and running the annual Christmas store and giving out Christmas bags to families in need."
Morris also enrolled in the organization's adult education program and worked on her math and English skills to get to college-level and got assistance for child care through the state. Soon after she enrolled in the Ready to Work program at ACTC. She gained employment at the college as a work study for the LPN program.
Eventually, Morris was able to save enough money for a car and enrolled in classes at the college. She did so well, she was accepted into both the LPN and registered nurse programs.
She said her plan is to complete the LPN program and transfer to RN, and eventually earn a bachelor's degree in nursing.
Having a more stable life has also allowed Morris to continue giving back the kindness that was given to her.
"One of the greatest things about Shyann is her compassion and willingness to help others," Maynard said. "One of her fellow workers was in her exact same situation, except without a vehicle, but really wanted to start school. Shyann volunteered to help her out and has taken her to school, work, dropped off and picked up her child at daycare every day for the past 15 months. The girl she has helped has also completed five semesters of college and is on her way to getting her social work degree."
The scholarship Morris received was created in memory of Rick Ritchason and his commitment to community service.
"What the scholarship is based on is a person who represented volunteerism and positivity in this community, and that's Rick Ritchason," Thompson said. "He was the ultimate volunteer and the ultimate nice human being."
Those interested in donating to the Rick Ritchason Memorial Scholarship fund can visit www.buildashland.org/volunteer and click on the donate button. Donations to the scholarship should be marked with a "scholarship" notation.
A link to the scholarship application is also on the Build Ashland website. To be eligible for the scholarship, the student must be a resident of Boyd or Greenup County, be active in community service, have a GPA of at least 2.5 and plan to attend ACTC.
In addition to the scholarship application, applicants are also required to submit a typed essay or video documenting their community service involvement.