Students earning GED, college certificates simultaneously
July 8, 2019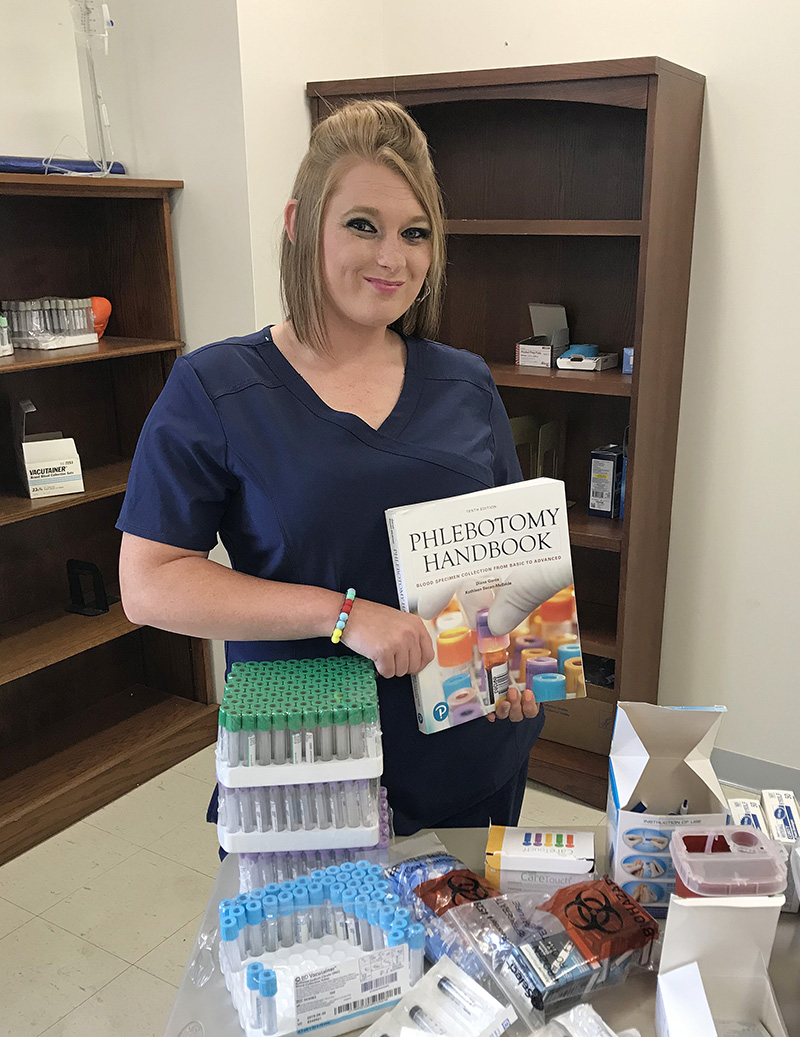 Sometimes life throws you a curveball that changes everything. For Mollie Ratliff, it was having a child while in high school, which led her to drop out in order to grow up fast and take on new responsibilities.
Now, it's Ratliff's 11-year-old daughter (and 9-year-old son) who are again the catalyst for the Lawrence County, Ky., resident to take on new challenges, like earning her GED and college credentials at the same time.
"I want better for my kids, but I also want better for myself," Ratliff said.
The 26-year-old started the GED Plus program in March with the goal of finishing her general education requirements as well as earning certificates in the Medicaid Nurse Aide and Phlebotomy programs. So far, she has completed both certificates and the social studies portion of the GED test. Her goal is the finish the other components — math, reading and science — before the end of summer.
Ratliff said she learned about the GED Plus program while visiting the Kentucky Skills U center (formerly Adult Education) in Lawrence County. After speaking with Chrisha Spears, GED Plus Success Coach at Ashland Community and Technical College, she decided to enroll and give it a shot.
"I thought, 'OK, that's something that I could do.' And I went out on a limb with it and tried it," Ratliff said. "I was really, really nervous. Because I was like, what if I can't do it? What if I end up letting myself and my kids down? At first, I thought I would get into it and then it just not be for me. And I didn't want to let my kids see me failing or quitting. Because I've always tried to teach them we aren't quitters."
The road to a GED while taking college classes hasn't been an easy one, Ratliff said, but her children have given her the encouragement and support she needs.
"One day when I got home (from class) my daughter looked at me and asked me how it was going," she said. "And I told her I didn't know, that I wasn't so sure about it. She said, 'You can do it. You're OK, you can do it.' Then I was like, you know what? I can do it."
Ratliff also said the Skills U and ACTC staff have been helpful during her time as a student.
"It's hard. It's harder than high school and I think that's why a lot of people don't even try to get their GED," Ratliff said. "But it can be done. In Lawrence County, in Louisa, they are amazing. If you need help with something, they will sit down and explain it. They will help you the best that they can, because they want to see you better yourself too."
The GED Plus program was launched earlier this year as a way to help those who do not have a high school diploma earn their credentials while co-enrolling in short-term college programs, allowing those students to enter the workforce faster. GED Plus is open to Kentucky adults who have not earned a high school diploma or GED. Those who have been out of school for a while sometimes have anxiety about college. GED Plus eliminates that concern because students receive one-on-one assistance from instructors and success coaches.
Prospective GED seekers must enroll at their local Skills U center, either in person or at https://gedplusky.org/get-started/. For those living in the FIVCO area, Skills U then sends the referral to Chrisha Spears at ACTC, who will follow up to set a meeting.
Spears is a recruiter for the program, academic advisor for the students in the program and success coach.
"I enroll them in classes, ensure they have assessment tests, schedule them for new student orientation and a final meeting to ensure that they are ready for GED and college," Spears said. "And I send a roster to each ACTC instructor that is working with a GED Plus student. We then discuss how these students are different from traditional students, however are expected to achieve just like any other college student.
"As a success coach, I check in with the students multiple times throughout the semester, whether it be via email, phone or seeing them at the GED center. I may send them reminders to check something such as email or their Student Account Center. I may send them words of encouragement, whatever the situation needs. I also connect students to other services and resources.
Students may begin their GED at any time. For students who also want to earn their college credentials simultaneously, they must enroll an attend class based on college's course schedule.
Programs that are eligible for the GED Plus program are:
Advanced Manufacturing
Gas Welder, ARC Cutter, Electrician Trainee Level 1, Maintenance Mechanic Level I, Welder Helper and Tack Welder
Business and IT
A+ Prep, Net+ Prep and Security+ Prep
Healthcare
Phlebotomy for the Health Care Worker, Medicaid Nurse Aide and Certified Medical Technician
Transportation and Logistics
Automotive Air Conditioning Mechanic, Manual Transmission/Drive Train Technician, Brake Repair, Automatic Transmission/Transaxle Technician, Engine Repair, Front End Mechanic, Automotive Electrician, Diesel Heavy Duty Drive Train Mechanic, Diesel Mechanics Fluid Power Mechanic, Diesel Steering and Suspension Mechanic, Heavy Duty Brake Mechanic Mobile Air Conditioning Mechanic, Preventive Maintenance Mechanic and Undercarriage Mechanic
Students who qualify for the GED Plus program can also take advantage of the Kentucky Work Ready Scholarship, which pays for tuition for short-term certificate programs.
The Boyd County Skills U center will have an open house event from 10 a.m.-1 p.m. on Wednesday, July 10 in Room 166 at ACTC's College Drive Campus. There will be light refreshments and students can learn about the GED Plus program, meet with the Skills U instructors, complete a college application and the Free Application for Federal Student Aid (FAFSA) forms.
For more information about GED Plus, contact Spears at chrisha.spears@kctcs.edu or visit https://gedplusky.org/. To find your local Skills U center, visit http://kyskillsu.ky.gov/.