Inaugural Wine, Women, Jewels event a success
Feb. 4, 2019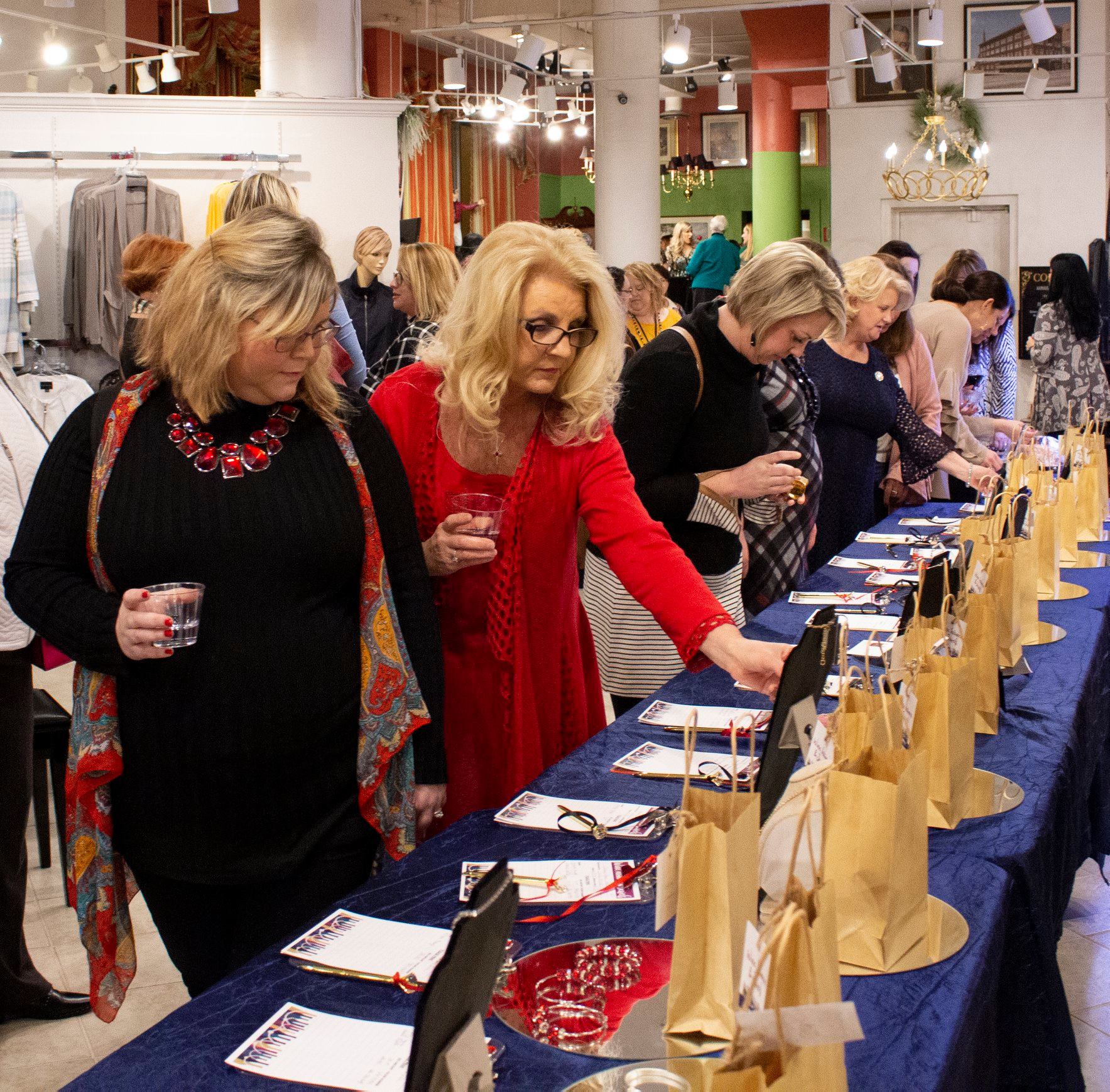 Ashland Community and Technical College raised more than $13,000 during its inaugural Wine, Women and Jewels event on Jan. 22.
A sold-out crowd attended the event at the Jockey Club for wine, hors d'oeuvres and a silent jewelry auction. All proceeds from the event will go toward ACTC scholarships for women.
The event was hosted by ACTC Director of Resource Development Brooke Seasor, retired Paramount Arts Center Director Norma Meek and 21 other local sponsoring hostesses: Mayola Boykin, Holly Canfield, CJ Cieraszynski, Terri Clark, Lori Cooksey, Juanita Ditty, Brooke Elswick-Robinson, Sheila Fraley, Julie Klein, Jane Layman, Patsy Lindsey, Kim McCann, Willie McCullough, Leslee McLeod, Ann Perkins, April Perry, Kathy Setterman, Pat Steen, Mae Deane Torgrimson, Heather Van Deren and Barbara Wheeler.
"This event was a first of its kind here in Ashland and it was a huge success," Seasor said. "The venue made it very unique and everyone who attended seemed to really enjoy themselves. Norma Meek was a huge asset to help the college with this fundraiser. The goal was to raise funds for women at the college and with a sold-out event, we definitely made that happen."
"I enjoyed working with the staff at ACTC in bringing this inaugural event to the community," Meek said. "It was heartwarming to see the gathering of women whose sole purpose was to help other women's future."
Donors for the silent auction were: Lori Cooksey, A Boutique/ Carolyn Runyon, Juanita Ditty, La Tee Da Boutique, Heather Vanderen, Corbie's, Holly B's, Pollock's, Tri-State Pawn & Jewelry, Purse-N-Ality, Bella Boutique/Rachel Adkins, Leslie McLeod, Sheila Fraley, Holly Canfield, Second Hand Rose, Patsy Lindsey, Mayola and Bill Boykin, Zella Rose, Rose Tree, Second Hand Rose/ Sam Perkins, Elaine Corbitt, Cheryl Spriggs and Erin Bounds.
Sixty-three "Jewel of a Guy" sponsors also donated to the event: Rocky Adkins, Joe Allen, Cory Boggs, Mike Bowling, Dr. Bill Boykin, James Bradley, Dr. Leon Briggs, Tom Burnette, Darrell Caldwell, Matt Canfield, Ronald Cartee, Brent Clark, Rick Clark, John W. Clark, Ben Cooksey, Dr. Mike Couchot, Wes Crawford, Bruce Davis, Mark Dillon, Dr. Jack Ditty, Bill Ewing, Dr. Larry Ferguson, Dolf Fischer, Paul Fraley, Dr. Robert Fried, Dr. E. B. Gevedon, Stephen Graham, Dr. Carter Gussler, Mitch Hall, Shawn Heck, Clayton Hill, Virgil Hoback, Andrew Jones, Dennis Klattenberg, Dr. Roger Klein, Dr. Jeff Lopez, E. B. Lowman, Jeff Lyons, Mike Mccann, Ron McCloud, Lance McComis, Tom McLeod, Tyler Meek, David Mussetter, Bernard Onan, Sam Perkins, Don Perry, Judge Scott Reese, Brad Robinson, Mike Robinson, Lance Seasor, Dr. Bruce Shaffer, Marty Torgrimson, Dr. John Van Deren, Stuart Webb, Michael Wheeler, Jay Whitlatch, Sean Whitt, JC William, Todd Young, as well as Build Ashland, Griffith DeLaney Hillman & Company and Summit RV.