ACTC announces fall 2018 dean's list
Jan. 29, 2019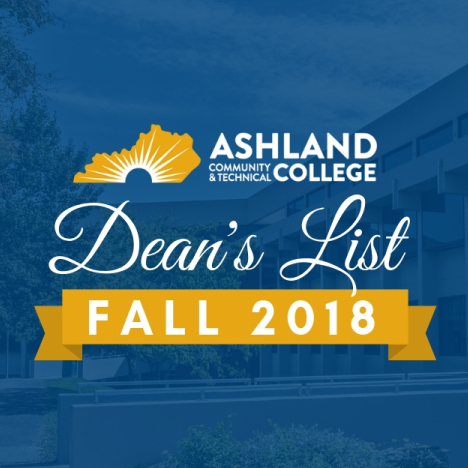 Ashland Community and Technical College has named 387 students to the dean's list for the fall 2018 semester. To be eligible for the dean's list, a student must complete at least 12 semester credits (of 100 level courses or above) or more for the semester and earn at least a 3.5 GPA for the semester. The students are listed below by state, county and city of residence.
Students from Kentucky
BOYD COUNTY
ASHLAND
Paul Michael Adams III, Daniel Allen Adkins, Jennifer Ellen Akers, Kori Jane Akers, Jonathon Thomas Allen, Jordan Leah Almaraz, Chad Michael Andrews, Alvin Delano Bailey III, John Braden Barbour, Hannah Blodgett, Rebecca Boatman Geoffrey Edward Bowling, Dustin Branham, Kayla Christina Brown, Johnathan Morgan Burke, India Rain Burris, Robert Carter Caron, Matthew Raven Chappelle, Courtney S. Childers, Brittani Lashae Clark, Phillip Anthony Clark, Tori Lashae Cole, Sarai Rosemary Combs, Julie Ann Conrad, Patrick Cooper, Madelyne Grace Culbertson, David Earl Damron, Andrea Cecile Davis, Corey Michael Davis, Audrey Lauren Deal, Kristin Shea Donta, Zackary Steven Endicott, Jordan Alexandra Fritz, Jeffrey C. Gibson, Ally Elizabeth Greene, Crystal Lee Grubb, Heather Larae Haffer, Courtney Reed Hale, Christopher Hall, Jeffrey Hall, Katelyn Nicole Hannah, Joshua Christopher Hayes, Donald Ray Hendricks, Perla Nallely Hernandez, Caleigh Jordan Howard, Timothy Joseph Huff, Brittany Layne Ison, Autumn M. Ivy, Skylar McKenzie Justice, Emily Nicole Kiger, Austin Blake Kirk, Brian Joseph Kratz, Aaron Larkins, Alex Benjamin Lebrun, Nikita Lashea Lemaster, Caitlyn Hannah Lindsey, Alexandria Litton, Hannah Polly Lyon, Sydni Alexandra Massie, Cameron Logan Matney, Joseph Robert Mautz, Brian Curtis May, Brooke Leigh Maynard, Charline Reane Mayse, Hannah Sydnee McCall, Vista Cheyenne McDowell, Jason S. Meeks, Jamie Lynn Menshouse, Isabella Lynn Moore, Shyann Summer Morris, Dylan Ryan Mullins, Andrea Michelle Murphy, Justin Randall Noe,Thomas Kian O'Neil, Jamison Breck Oppenheimer, Adrianna Mechelle Pereira,Jon-Paul Michael Pinson, Kelly Sue Porter, Charles Erwin Potter, Charles Ian Powell, Courtney Donn Blair Queen, James William Queen, Brooke Ratliff, Kara Riffe-Styer, Aaron Richard Russell, Crystal Paulette Russell, Eden Elisabeth Russell, Sarah Gail Salyers, Jennifer Nichole Sanders, Camden Lee Shell, Charles Andrew Simpson, Ruby Elizabeth Smith, Angela Spara, Teresa Lynn Stambaugh, Wesley Arron Stark, Michael Thomas Strother, Cheri Lynne Tackett, Jonathan Tate, Gideon Mark Thompson II, Chidi Chigozie Udeagwu, Zoe Karma-Leda Vance, Christina Marie Walters, Denver Wells, Alfred Leo White, Daniel Ray Whitt, Jacob Ryan Workman and Jaclyn Young.

CATLETTSBURG
Sean David Bishop, Emily Nicole Borders, Nicholas Tanner Bryan, Tina Michelle Chaney, Chase Michael Fry, Melody Erin Hammonds, Tanner Nicole Henderson, Amanda Jarvis, Summer Kristen Lawson, Alexis Mykel Lunsford, Michael Alan McCoy, Lucas Jordan Messer, Camryn Mykale Neeley, Andrew K. Ramey, Houston Myri Reeves, Charles William Runyon, Allyson Paige Sparks, Sara R. Stapleton and Haley Brooke Stewart.

RUSH
Bradley K. Davis, Hannah Grace Davis, Barbara Jean Gambill, Anthony Kyle Gibson, Emily Grace Hays, Terry Joseph Jackson, Loran Elizabeth Lynch, Alyssa Gail McCormick and Emma S. Valle.
CARTER COUNTY
DENTON
Teresa Carter.

GRAYSON
Tarry Micah Adoptante, Sara Elizabeth Barber, Rebecca Grace Bowling,
Charles Devon Bradford, Chaney Brainard, Brandon Lee Branham, Jeffrey Tyler Burchett, Johnda Burchett, Steven Michael Clark, Zachary Todd Craig, Jerry Denton,
Joseph L. Elam, Whitney Taylor Estepp, Sarah Nicole Frazier, Kristin Jade Gilbert, Autumn Hope Halley, Jackson Wayne Harris, Christopher Bruce Jackson, Shane Allen Johnson, William James Kees, Veronica Kay Kirk, Blake Dee Lewis, James Andrew Logan, Braiden Tanner Mara, Michael P. Marsh, Rhiannon Shawn McDavid, Randa Leigh Parker, Gannon Keith Phillips, Teresa Rogers, Joshua Nathaniel Salmons, David Matthew Shore, Rachel Violet Sidell, Tabitha L Skaggs, Edie Marie Suarez, Sarah Lee Trent, Carla Dee Whitaker, Aaron Joseph Williams, William Tyler Woods and Rob Alexander Yates.

HITCHINS
Emmalee Burchett, Samantha Mae Holbrook and Austin Lee Valentine.

OLIVE HILL
Brandon Darrin Cartwright, Dustin Dewayne Clay, Tiffany Lynn Clay, Adam Kade Flanery, Milton Edward Henderson, Rebecca A. Lowe, Tori Briana Lowe, Latoshia McCleese Lindy K. Messer, Tanner Mackenzie Moore, Thomas Gerald Rayburn, Joshua L. Roark, Rebecca Danielle Smith, Hallie DeNae Sparks, Kristen Mikaela Stewart, Andrew Chase Stone, Emily Marie Sturm, Bryce Edward Sublett and Joann Williams.

RUSH
Rachael Cheyanne Bush.

WEBBVILLE
Clayton Justin Brewster and Jon Hayden Cole Mauk.
ELLIOTT COUNTY
OLIVE HILL
Haden Wayne Harper and Alyssa Louise Smith.

SANDY HOOK
Ashley R. Adkins, Christopher Dwight Atkins, Jacob Zachary Davidson, Brittany Rene Griffith, Billie Lee Howard, Makaila Jae Johnson, Kayleana Dawn Simmons, Nancy Kaye Sloas and Jacob Farrell Wilson.
GREENUP COUNTY
ARGILLITE
David Evan Boone, Justin Lee Douglas Foody and Zachary Caleb Slone.

FLATWOODS
Brooklyn Michelle Adkins, Daniel Curtis Adkins, Kourtney Renee Bays, Nicholas Andrew Blair, Caleb Caldwell, Wendy Renee Clark,
Austin Blake Clifton, Brenna Baylee Daniel, Kayla Fyffe, Jason Paul Galvin, Juliann Marie Gould, Lowell Tanner Gullett, Christopher Alexander Hammond, Jarid Ray Hanners, Samantha J. Howell, Ashley Nicole Keeton, Christian Lee, Brooke Lynn Loudenback, Barrett Clay McDavid, Kaleb Andrew Mokas, Colton Wayne Nunley, Joseph Aaron Pennington, Michael Brandon Salyers, Sara Beth Smith, Trinity Haven Underwood, Kristan Diane Vanderhoof, Phillip Ray Williams, Karen Marie Winters, Erik Woods and Kimberly Zelaya.

GARRISON
Maria Maggard and James Roger Montgomery.

GRAYSON
Timothy Barksdale Cook.

GREENUP
Christopher Duane Archey, Justin Russell Baldridge, Parker Harrison Ball, Elisabeth Shea Boggs, Joshua Macbride Callihan, Cody Carter, Eric Lee Carver, Bryson Dale Clark, Alison Raeann Cranfill, Shawnee R. Fritz, Charles Henry Hannah, Katelin Brooke Howard, Jennifer A. Kazee, Miranda McGlone, Brianna Michelle Meade, Alexis Marie Neiling, Susanna Kristin Russell, Sarah Elizabeth Silvas, Amanda Spradlin, Wesley Clay Stephens and Casey Jordan Williams.

RACELAND
Elizabeth Nicole Martin, Melissa Messer, Ashlie Smith and Jessica Lee Waggoner.

RUSSELL
Larry Wayne Berry, Jason Alexander Blevins, Kendra Marie Cooper, Millard Fluty, Nicole Lee Heighton, Shelby Ann Jones, Benjamin Joseph Lemaster, Lucas Mayo, Jordan Isaiah Meeks and Kailey Renee Spainhower.

SOUTH PORTSMOUTH
Brandon Corbett Howell.

SOUTH SHORE
Michael Lee Adkins, Timothy Lloyd Carter Jr., Joshua Graham Liles, Joshua David Moore, Kearsten Peters, Garrett Charles Quillen and Christopher Bradley Riggs.

WORTHINGTON
Kaylee Danielle Bradley, Dru Hunter Elliott, James Ronald Fields, Tristan Shawn Kilburn, Misti Jo Tackett and Amy Heather Thomas.

WURTLAND
Gregory Peyton Martin and Ashley D. Schultz.
LAWRENCE COUTNY
CATLETTSBURG
Kailee Jo Ross.

FALLSBURG
Maria Arlene Blackburn.

LOUISA
Austin Bailey, Christian T. Black, Logan James Branham, Julie Michelle Cooksey, Robert Kenneth Cox, Jack Leanne Derossett, Joshua Milton Fitch, Kendra Mylee Fitch, Earic Zeelan Freedlish, Shanda Lynn Freedlish, Timothy A. Griffith, James Hammond, Michael Boyce Henry, John Brandon Hutchinson, Holly Ann Martin, Laura Jill Mills, Christian Morgan O'Brian, Nick J. Richie, Stephanie Michelle Seldomridge, Alexis Dezerae Smith, Kyle Wayne Taylor, Kristine Dawn Tidd, Chelsea Lynee Vaughn and Savannah M. Yaw.

ULYSSES
Halie Paige Rosser.

WEBBVILLE
Walker Kade Ferguson and Lyle Allen Hicks.
LEWIS COUNTY
GARRISON
Misty Dawn Madden and James Walker Thompson.

VANCEBURG
Robert Douglas Jordan.
OTHER CITIES IN KENTUCKY
Monica Ray Perry, West Liberty; Haylee Paige Tucker, Mouthcard; Jennifer S. York, Morehead
Students from Ohio
ADAMS COUNTY
Kristina L. Rideout

GALLIPOLIS
Shameka Beaver

CHESAPEAKE
Casey Levi McComas and Joseph Tanner McDaniel.

COAL GROVE
Kyle Harvey Miller

IRONTON
Eric Alfred Bennett, Craig Castle, Joshua Troy Harmon, James William McKenzie II, Richard Blaine Pelmonter, Chasity Nicole Porter, Allison Nichole Schug, Brady Whitley, Jessica Shay Williams and Jonathon Cole Willis.

KITTS HILL
Lacey Faye Estep, McKayla Anne Herrell and Larry James Stapleton.

PEDRO
Kellie Elizabeth Buchanan.

PROCTORVILLE
Kodey Nathan Hager and Nicholas Bryce Matthews.

SOUTH POINT
Lisa Rae Bowman and Madison Paige Kearns.

WILLOW WOOD
Jarod Matthew Shepherd.

SCIOTO COUNTY
Trevor Michael Carver, Franklin Furnace; Joseph Lee VanMeter, Portsmouth; Jason Swords, West Portsmouth; Benjamin Everett Cunningham, Wheelersburg; Chelsea Renae Pierce, Wheelersburg; and Bryan Scott Vance, Wheelersburg.
Students from West Virginia
BARBOURSVILLE
Amber Brooke McDearis

HUNTINGTON
Mark Tyler Arbogast, Kenneth Lee Cremeans, Rhett Charles Lanier, Sid Russell Mosser II and Samantha Dawn Wren.

CRUM
Christopher Chance Muncy.

DUNLOW
Kennedy Makayla Beckett and Marlee Jade Marcum.

FORT GAY
Austin Gage Anderson, Olen Randall Thompson and Steven Vanhoose.

KENOVA
Tucker Daniel Ball, Braden Joseph Ferguson, Julien Edward Holley, Sara Katherine Kinney, Levi Nathaniel Lucas and Whitney Rose Reynolds.

PRICHARD
Zachary Ellis.

WAYNE
Emma Faye Pritchard, Eddie Matthew White and Branty Bill Wilson.
OTHER STATES
Brady Lee Welch, Montevallo, Ala.