ACTC freshman receives Build Ashland scholarship
Sept. 25, 2018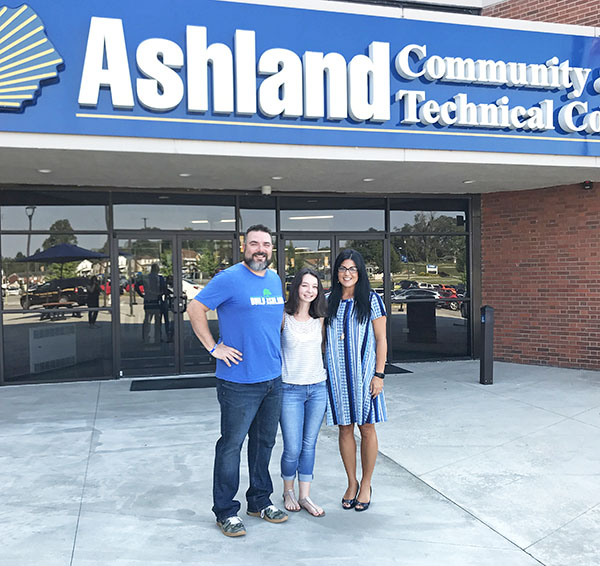 Kearsten Peters, of Greenup County, was awarded the Rick Ritchason Memorial Scholarship by Build Ashland.
The Ashland Community and Technical College freshman was chosen to receive the $3,000 scholarship because of her extensive volunteer service.
Wes Thompson, board member of Build Ashland, said Peters' application was "impeccable" and embodied the meaning behind the scholarship, which was created in memory of Rick Ritchason and his commitment to community service.
"He was the embodiment of volunteerism," Thompson said. "He was with everything from Build Ashland to Ashland in Motion, Summer Motion, River Cities Harvest. If you went anywhere you ran into Rick. Rick was just an endlessly positive person. When he passed away, we decided we wanted to do something to honor him and this scholarship idea came up."
During her high school years, Peters was actively involved in community service activities organized by her school and those she organized herself.
She has volunteered decorating and serving meals in nursing homes, worked with a backpack program, bell ringing for the Salvation Army, wrote letters to soldiers, coordinated efforts to make a Veterans Day video for her community, participated in the LEO Club and National Honor Society, raised money for a camp for the blind and deaf, helped with Toys for Tots, volunteered with vacation Bible school, among many others.
"I just think it's fun," she said. "I think it is an awesome opportunity, especially for me, to go out and get to meet new people. And I get to help people while I'm at it, so that's always rewarding."
Peters is attending ACTC to get her Associate in Arts degree and plans to transfer to a four-year university to major in marketing and advertising.
She said she looks forward to continuing her community service efforts throughout college.
Thompson said Build Ashland plans to fundraise for another scholarship next year. Those interested in donating to the Rick Ritchason Memorial Scholarship fund can visit www.buildashland.org/volunteer/ and click on the donate button. Donations to the scholarship should be marked with a "scholarship" notation.
A link to the scholarship application is also on the Build Ashland website. To be eligible for the scholarship, the student must be a resident of Boyd or Greenup County, be active in community service, have a GPA of at least 2.5 and plan to attend ACTC.
In addition to the scholarship application, applicants are also required to submit a typed essay or video documenting their community service involvement.