Three ACTC Employees Win State Excellence Awards
Three Ashland Community and Technical College employees have been recognized by the Kentucky Community and Technical College System (KCTCS) for achievements in the 2014-2015 academic year. They received their awards at the KCTCS New Horizons Conference on May 18.
The Awards of Excellence recognize the leadership and significant achievements of an outstanding faculty member, administrative staff member and support staff member from each KCTCS College.
Shannon McCarty, Associate Professor and Diesel Program Coordinator received the Faculty Award. An Ironton Ohio resident and native, he graduated from Rock Hill High School and Collins Career Center. He has an Associate in Applied Science Degree from ACTC and ASE (Automotive Service Excellence) Medium/ Heavy Truck Master Certification.
McCarty started at ACTC in 2007 and has received several annual Teaching Excellence Awards. Last year he was awarded the colleges First Among Firsts Teaching Award. He serves on the ACTC Developmental Education Committee.
Robert N. Smith, an Instructional Specialist I in the Culinary Arts Program, received the Support Staff Award. A South Shore resident, he graduated from Greenup County High School in 2007. He has an ACTC Associate in Applied Science Degree in Culinary Arts with culinary and catering/personal chef emphasis.
Smith is a Foodservice Management Professional through the National Restaurant Association and has certifications in ServSafe, Nutrition, Food Service Cost Control, and Hospitality and Restaurant Management Certificate.
Janet Thompson, Admissions Advisor, received the Administrative Staff Award. An Ashland native and lifelong resident, she graduated from Boyd County High School in 2002. She has a Bachelor of Science Degree in Organizational Communications from Ohio University Southern and a Master of Science Degree in Adult and Technical Education from Marshall University.
Thompson started at the college in 2012 and has served on the college Development Education Committee and several job interview committees. She is currently a member of the Distance Learning Committee.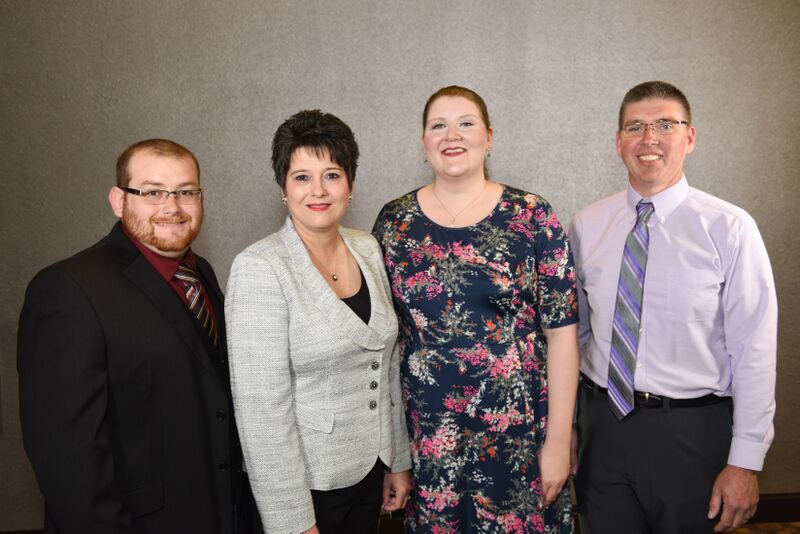 Shown in the photo are Awards of Excellence winners Robert N. Smith, Janet Thompson and Shannon McCarty with ACTC President Kay Adkins, 2nd from left.