Students Honored with Special Awards
Published on Apr 25, 2017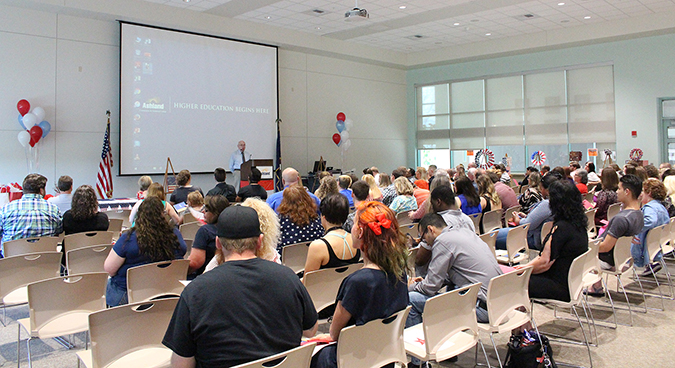 The Student Success and Enrollment Services Celebration on April 20 honored the accomplishments of dozens of Ashland Community and Technical College students. Nearly 80 awards were given to SSES club officers and student workers for leadership, perseverance, Rookie of the Year, community commitment, Outstanding Student, Star Spangled Student and more.
Student Support Services participants who are graduating this year were also honored.
"This annual event is a collaborative venture to celebrate the accomplishments of students within our Student Success and Enrollment Services division," said Megan Horne, director of Student Support Services (SSS). "As it turns out, most of the students who attend are Student Support Services participants, but we try to acknowledge their participation in other student clubs and organizations, as well as their service to ACTC."
This year's theme was honoring the military. Whitney Gollihue, an ACTC student who is an active duty U.S. Marine serving in Japan, sent a video message explaining how without the support of her family and the understanding and flexibility of the staff at ACTC, she wouldn't be excelling in the criminal justice program.
"ACTC being a military-friendly school only helps that much more," Gollihue said.
Gollihue's mother, Michelle Gollihue, is the data coordinator for SSS at ACTC.
"We are so appreciative of her service and know how much it means to her mother," Horne said. "It just seemed appropriate. We were very glad that everyone else in SSES division rallied around the idea, which meant for a fantastic event."
Also speaking during the celebration was Derek Woods, an ACTC graduate and Marine. Woods was one of 630 men and women who were affected by the idling of the blast furnace AK Steel in December 2015. Woods immediately began taking courses at ACTC and completed 47 credit hours with a 3.9 GPA before transferring to Marshall University in pursuit of multiple degrees.
Dan Bailey, a professor and counselor at ACTC, also spoke. Bailey retired in 2000 from the United States Army Reserve with more than 30 years of service. He spoke about his 18-day trip through the South Pacific to visit sites of World War II, the Greatest Generation and encouraged everyone to always thank veterans for their service and support service members and their families.
As part of the celebration, door prizes created by SSES staff and SSS students were given out. CAB's Catering of Ashland provided the meal.
Award recipients were:
Recognition of Service: Michael Blair, Stephanie Smith, Kirsten Chapman, Monica Craig, Kayla Evans, Rachel Grubb, Meredith Kersey, Coriina Kouns, Catherine Burkes, Jeff Hay, Khin Thu.
Recognition of Leadership: Jessica Brown, Terri Duncan, Jason Easter, Katlyn Evans, Michael Green, Stacy Napier, Alisha Franks, Melissa Walters, Mikaela McDonald, Keri Jones, Catherine Burkes, Rachel Grubb, Steven Sparks, Anthony Johnson, Melissa Burns, John Chapman, Terri Duncan, Laura Reeves.
Recognition of Appreciation: Mikaela McDonald
Community Commitment Award: Catherine Burkes, Erin Moore, Joetta Sparks, Khin Thu, Melissa Walters.
Jenny Rickman Award: Jessica Brown, Kelly Chapman.
Outstanding Student Award: Justin Bryant, Alisha Franks, Rebecca Gilliam, Beth Lowe, Samuel Watkins.
Perseverance Award: Stephanie Banner, Christopher Daniels, Bryant Griffith, Margie Holbrook, Susan Justice, Meredith Kersey, Kayla Mullins, Gina Rice.
Rookie of the Year: Nelson Benitez, Chinaemerem Ogu.
Star-Spangled Award: Mikaela McDonald.
TRIO Award: Timothy Millhouse, Lesa Thacker, Julian Thigpen.
Distinguished Service Worker: John Chapman, Matt Pfau, Kyle McConnell, Laura Jane Reeves, Julian Thigpen, Brittany Aberegg, Rebecca Burch, Chelsea Chapman, Dakota Sturgill, Emily Sturgill, Rebecca Gilliam, Fauna Grubb, Mark Ratliff, Savannah Justice, Amber Seiler, Joetta Sparks, Alisha Franks, Jessica Brown, Kelly Chapman, Claire Misbach, Samuel Watkins.