Rep. Pullin Will Speak at ACTC Graduation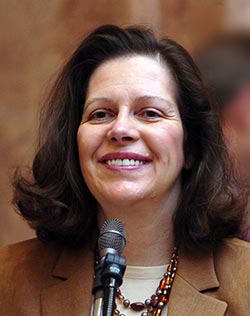 State Representative Tanya Pullin will be the Ashland Community and Technical College Commencement Speaker May 14 at the Paramount Arts Center in Ashland.

Rep. Pullin is now serving her sixth term as 98th District Representative in the Kentucky House of Representatives. She chairs the Veterans, Military Affairs and Public Safety Committee and serves on the Transportation, State Government, and Rules Committees
A graduate of Greenup County High School, she earned a Bachelor of Science from the University of Kentucky and a Juris Doctor from the UK College of Law. She also has a certificate of international law from the Faculty of Law at Uppsala University in Sweden and a Masters Degree from Duke University.

Rep. Pullin has received the Patrick Henry Award, a national award recognizing her support for the National Guard, and the Guardian of Small Business Award from the National Federation of Independent Businesses. She has been inducted into the Hall of Fame of the UK College of Agriculture School of Human Environmental Sciences.
ACTCs Commencement Ceremony at 10:00 a.m. on May 14 will recognize a record 520 graduates, many of whom have earned more than one degree, diploma or certificate. The student speaker will be Cheryl A. Cook, a Catlettsburg resident graduating with an Associate in Applied Science Degree in Interdisciplinary Early Childhood Education with high honors.
The ceremony is free and open to the public.