Playwright Jonathan Joy Enjoys Teaching at ACTC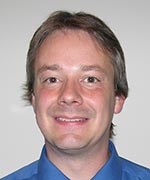 Appalachian life provides the backdrop for the works of playwright/author Jonathan Joy, an English/Writing Instructor at Ashland Community and Technical College.
Ive lived in the area most of my life, and my experiences in the Tri-State give a regional flavor to my plays and essays, Joy said. He was born in Huntington, grew up across the river in Burlington, taught at Shawnee State University in Portsmouth, now teaches at ACTC in Ashland and lives in Huntington.
My plays are mostly domestic comedies that are set in this area and involve a wide variety of Appalachian characters. My essays are largely narrative accounts of growing up in Southern Ohio, though I have some political pieces too, Joy said.
A caf in Portsmouth gave him the title for Lunch at the Fork amp; Finger, a one act comedy now available in Kindle version on Amazon.com. In the play, a young man travels home to meet his mother's new boyfriend.
Boyd County was the setting for American Standard, political farce about two rural Kentucky State Senate candidates, one Republican and one Democrat, forced to pool their resources and travel the campaign trail together. The full-length play won two regional awards and was first produced by Marshall University Theatre.
One of Joys favorite plays, Princess of Rome (Ohio), is a comedy with a wide variety of small town characters. The dysfunctional tenants of a ramshackle house air their dirty laundry on the front porch while their young daughter dreams of getting away to start a better life. The play is scheduled to be performed in St. Albans this summer.
He also likes his Bitsy and Boots series of four comedies that revolve around two eccentric, oddball women living in Southern Ohio, their annoying cousin Ida, their nephew Tommy and his wife. The series was commissioned and produced by the First Church Dinner Theatre of the First United Methodist Church in Huntington.
Although I use local references, the themes and character traits are pretty universal, and my plays have drawn the same audience reactions, such as laughing in the right places, in productions from Texas to New York, Joy said.
I often observe people or overhear conversations that make it into my plays in one way or another, Joy said. My mother once warned my father to be careful what he says because it might end up in a play. More often than that, my plots and characters just come from my imagination.
His plays have been performed regionally with the First Church Dinner Theatre, Charleston FestivALL, Marshalls New Works Fest, and First Stage Theater, among others. Outside of this area, his work has been produced in twelve states, including Off-Broadway stages in New York City, and overseas in Dubai and France.
Joys work has been featured in the New York Times,Southern Theatre magazine and Insight for Playwrights magazine, and published by Brooklyn Publishers, Smith and Kraus, and the One Act Play Depot.
His plays are also included in three theatre books: Millennium Monologues 2, Shakespeare Festivals Around the World, and 60 Seconds to Glory: 220 Monologues for Women. His plays American Standard and Simply Selma have just been published online on ProPlay (www.singlelane.com/proplay).
Although a successful and prolific writer, with more than 25 plays to his credit, Joy considers himself to be a teacher. "Although I have a couple new plays in the works, I'm focused on my teaching first and foremost, and my family, of course."
He values the time spent with his wife Rissie and three-year son, Levi. His brother also lives in Huntington and his parents, James and Susan Joy, still live in the southern Ohio area where Joy grew up.
He also values his time in the classroom teaching English and composition courses. "I love reading and writing, and I try to communicate that to students," Joy said. "I think my enthusiasm shows through."
"I've had students say that they're reading more and enjoying it more because of what we did in class," Joy said. "We write in a variety of different styles, and students often comment that they enjoyed writing much more than they thought they would."
"Although teaching and his son Levi take up most of my time, I get in writing zones every once in a while when I might write 30 or 40 pages in a month and then follow that up with a month or two of little or no writing," Joy said. "It's hard to find time, but I when I get the right inspiration, I make time."
"I've always had a fascination with writing," Joy said. "In high school, my writing was mostly poetry and short stories, and now I concentrate on plays and essays."
"When I was 15, I got involved in community theatre and decided to study theatre in college." Joy said. After graduating from South Point High School in 1993, he earned a Bachelor of Fine Arts Degree at Marshall University and worked in theater productions for two years.
"I was only gone for two years," Joy said. "I lived in Columbus for a year and Norfolk for a year. They are both great cities, but theres no place like home. I am much more comfortable in the Tri-State."
His professional acting and directing credits have included work with the Phoenix Theatre Circle in Columbus, Ohio; Virginia Stage Company in Norfolk, Virginia; Huntington Rep in Huntington, and the Backstage Players in Ashland.
"Over time, I found myself drawn more to writing than to acting and directing. I moved back to the area and started writing daily. I enrolled in Graduate School at Marshall and started teaching as soon as I could."
He earned a Masters Degree in English with an emphasis on Drama and Creative Writing and taught part time at Marshall, Mountwest Community and Technical College, and Shawnee State before coming to ACTC four years ago.
"This is my dream job," Joy said. "I've wanted to teach since I was young and my dad would take me to campus. My father is a Professor of Biology at Marshall University, and I saw where I wanted to be someday, although not in science. When I found my field, I had my goal."
New Playwriting Class in Fall
The teaching and writing facets of Joys life will overlap next fall when he teaches a new Creative Writing: Playwriting class (ENG 207) at ACTC. In the three credit class, students will write monologues and short plays. The student works will be presented in spring 2014 in a New Play Festival produced by ACTC Theatre.
"I look forward to helping students develop their dramatic writing skills," Joy said. "Perhaps some of them will discover a passion for writing that leads to their new goal in life."