Hungarian Folk Ensemble Performs Oct. 29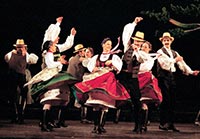 The world famous Hungarian State Folk Ensemble will perform Tuesday, Oct. 29, at 7:00 p.m. in the Paramount Arts Center I Ashland.
Regarded as one of the greatest folk dance ensembles in the world, the group showcases the folk music, dance and traditional costumes of Hungary. The choreographies are based on authentic dances, with dance elements dating back hundreds of years.
Tickets may be reserved through the Paramount Arts Center, 606.324.3175. ACTC, Mr. Victor Bodo, WVHU, The Greater Ashland Beacon and the Kentucky Arts Council are cosponsoring the performances to support the arts and enhance cultural opportunities for area residents.