Scholarships important to ACTC students
Published on Nov 29, 2017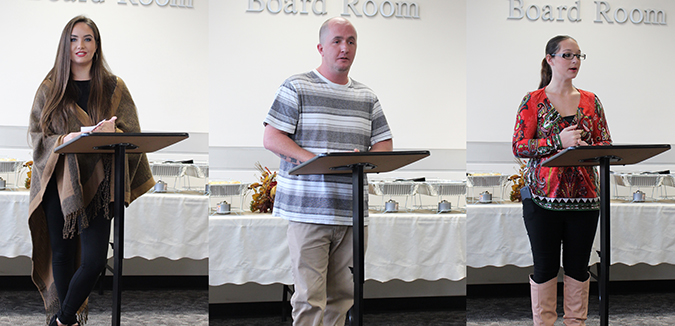 Ashland Community and Technical College is continuing its 80th anniversary celebration by recognizing the Community and Technical College Foundation of Ashland Inc., which just turned 23 years old in November.
The foundation's main goal is to administer scholarships to students, both incoming freshmen right out of high school as well as non-traditional students.
On Nov. 17, the foundation recognized its many donors during a Celebration of Philanthropy breakfast.
Bob Maher, foundation board president, spoke about ACTC's commitment to providing accessible, affordable and quality education to the community.
"You all have been a great support in that mission. Literally hundreds of students have attended this college who would not have been able to do so without the support of scholarships and other benefits that have been made possible through the foundation of the community college," he said. "And these folks go on to attend other institutions and other careers that are fulfilling to themselves and are a great benefit to their families."
Three scholarship recipients also spoke about how important receiving scholarships was to them.
Courtney Queen, a 2017 graduate of Russell High School, received an incoming freshman scholarship and is working toward her Associate in Science degree. She plans to apply to optometry school upon graduating from ACTC.
"This scholarship has already helped me tremendously," Queen said. "I'm getting my full schooling paid for right now, so I can save back any money I'm working for with my job. This scholarship allows me to have a transfer scholarship, so when I transfer to Pikeville, it will lower my tuition cost a lot."
Queen said she had always thought about going away to a four-year university with her friends right out of high school, but began to realize it made more sense to say close to home.
"It wasn't until my senior when I really considered it," she said. "It makes sense to stay here. Why would I not stay here and go for free my first few years and save up all kinds of money to help me in the future."
She said while some of her friends are already racking up student loan debt, she feels relieved to not be in that position.
"I love this school. I love my teachers. I definitely recommend anyone who is still in high school to stay here for as long as they can."
Michael and Jan Blair are non-traditional students who were able to begin their education at ACTC thanks to scholarships. The newlyweds are also work studies employed in the admissions office and the advancement office, respectively.
Michael received a Kentucky Power Scholarship and will be graduating this December with his Associate in Arts degree. He has already been accepted into the social work program at Morehead State University and will go on to earn his master's degree at Western Kentucky University.
"This scholarship has kept me from applying for more loans," he said. "Me and my wife are both full-time students and work part-time here. We have five children, so it is a full-time job all the time. In my past, I'd never seen an education, really. I never thought I would get this far with an education and you all have helped tremendously with that. One day I hope I can give back to society like you all have and hopefully I can help other students the way you all have."
Jan is also working toward her Associate in Arts degree so she can major in social work and chemical dependency counseling and also receive her master's degree. Like her husband, Jan also said she never thought a higher education was possible.
"I come from a really rough past," she said. "Addiction and abuse was in my life for many years, so to be able to stand in front of you all today clean and sober with an education, that's just a world of difference. I try everyday to make a difference and I want to better the lives of the people around me. I want to obtain an education to better my children's lives and show them how important it is to get an education.
"I don't believe I would have been able to do that if it wasn't for the scholarships and the loans and the people here supporting me. I'm so grateful to be able to speak in front of you all and tell you thank you for helping me obtain an education, because I never thought it was possible. You all touch many lives every day and I'm so grateful to be a part of that."
One of the donors present also spoke about what motivated him to give to the foundation. Neil Wilson established the Susan Wilson Memorial Scholarship earlier this year in honor of his late wife. He said he was inspired to do so after talking to a young woman who served him in a local restaurant, who was also a student at ACTC.
"I thought, 'How in the world does she do this? Go to school and she works so hard,'" Wilson said.
The woman told Wilson that she had to take out loans to go to school, but that she was almost ready to graduate.
"I thought, 'What can I do to help?' And I didn't say anything to her," Wilson said. "I called ACTC until I found the right people in the cashier's office and I paid her loan. She found out about it, but way later. And I thought that felt so good that I would just go ahead and set up a scholarship. We've got two students who are in their first year here. Full tuition, fees and books paid for."
Willie McCullough, dean of resource development and external affairs, said 192 scholarships were awarded this fall. She also spoke about some of the projects the foundation undertook over the past 23 years.
Some of those projects are three major gifts campaigns, four golf scrambles, establishment of the Young Women LEAD and Young Men's conferences, establishment of the Fred Charles Student Emergency Fund, which helps students with unexpected medical bills, utilities or other hardships, and the construction of the Guy and Lisa Spriggs Child Development Center.