Electrical Equipment Donated to ACTC
ABB, Inc., through US Bearing and Power Transmission Corp.(USBPT) has donated five state-of-the-art ABB ACS355 Motor Frequency Drives to the ACTC Electrical Technology Program. They will supplement existing drives donated by US Bearing and Power Transmission Corp. five years ago.
USBPT is a distributor for ABB, Inc., one of the worlds leading engineering companies and one of largest suppliers of electrical drives.
The drives are donated to make sure students will be trained on the equipment now being increasingly used throughout the industry, Gary Cornette, an Ironville resident who is branch manager for US Bearings and also a graduate of the college. Helping students become prepared for high skilled jobs not only helps them, it helps us as employers.
You can see the progress we've made in the past few years, not only in drive size but in the complexity of operations possible with this new unit, said Lenville Farley, Automation Specialist with US Bearing, as he compared the cell phone sized device of today to the breadbox sized device of five years ago.
Farley is a Kenova resident who graduated from ACTC last May with an Associate in Applied Science degree in Electrical Technology.
Valued at about $1,000 each, the drives regulate the speed and power consumption of electric motors. Student will learn to install and operate the drives to control and monitor electrical motor systems.
We appreciate this gift from US Bearing and ABB, said Timothy McAdams, Associate Professor of Electrical Technology. They have been very helpful to us over the years, not only with cutting-edge equipment but with advice on what industry needs their employees to know.
Green energy is becoming more and more important not only to businesses but to consumers, McAdams said, and these AC drives are an energy conservation tool for businesses and industries ranging from manufacturing to mining to hospitals. It is important that our students learn the technologies that are being used predominantly in the electrical industry right now.
The college will also be able to use the donated drives for Industrial Maintenance classes in the use of motor controls in machining and processing operations such as conveyor belts, crushers and material handling systems, said Richard Burnett, Division Chair for Manufacturing, Transportation and Industrial Technologies.
For more information on Electrical Technology, contact Program Coordinator Harold Henry, 606-326-2476 or email: harold.henry@kctcs.edu.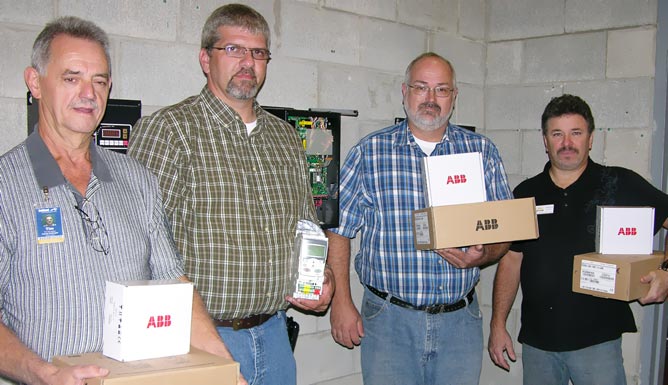 ABB Inc. and US Bearing and Power Transmission Corp.(USBPT) donated electrical drives to ACTCs Electrical Technology Program on September 21. Shown from left are Tim McAdams, ACTC Associate Professor of Electrical Technology; Lenville Farley, UBBPT Automation Specialist; Gary Cornutte USBPT Branch Manager; and Harold Henry, ACTC Associate Professor and Electrical Technology Program Coordinator.