Never too many cooks at ACTC
Published on Aug 4, 2017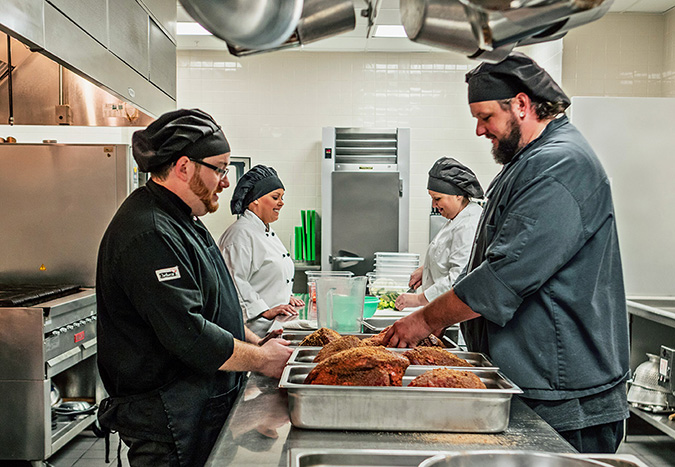 For those who want to take their passion for cooking to the next level, Ashland Community and Technical College's Culinary Arts program is the just the place to start.
The program, now in its 17th year, allows students to get hands-on experience in a state-of-the-art commercial kitchen as well as an on-campus café that serves students, faculty and staff, as well as the public.
Peggy Bradley has been the program coordinator since the program began, and said students take a variety of courses and train in all aspects of working in a commercial kitchen.
"Our students spend a lot of valuable time during their training helping to operate all areas of the commercial kitchen, from preparing, serving and storing the food to washing dishes," she said. "After completing their training of four semesters in the Culinary Arts program, students can walk into any commercial kitchen setting and be totally at ease and proficient with carrying out the cooking skills, techniques, use of equipment and operations of a kitchen setting anywhere."
The Culinary Café, located at the Technology Drive Campus, is open from 11 a.m.-12:45 p.m. Monday-Thursday during the fall and spring semesters. The main menu of made-from-scratch food and desserts changes daily, with burger and fries also available each day.
"Students rotate stations, serving a week to two weeks per station, depending on the size of the class," Bradley said. "Our stations include bakery, desserts, salad bar, grill and savory food preparations. Students also serve food to our customers, giving them valuable human resource skills and front of the house experience."
Some courses of training include food safety/sanitation, basic fundamentals of culinary arts profession, baking, meats-seafood's-poultry, international and classical cuisine, foodservice cost control and hospitality human resources management. Students must also pass a national exam in sanitation sponsored by the National Restaurant Association called ServSafe Certification.
The Culinary Arts program offers an associate degree with three different options: Culinary Arts, Catering and Food and Beverage Management. There are also three diploma and seven certificate options.
"Many of my graduates leave with all credentials that the program offers, which very much help them to achieve a higher level position when entering the job market, or wanting to advance in their current foodservice job," Bradley said.
Cory A. Boggs, a 2012 graduate of the Culinary Arts program, used his education and training to start his own catering business. The Catlettsburg native started CAB's Catering in 2014 and has continued to grow a dedicated following.
"I started off doing daily lunch specials to get my name out and that quickly turned into much larger events," Boggs said. "I eventually stopped doing lunch specials because I am busy with other events."
Boggs has catered a number of events in Ashland and the surrounding area, including the Jingle Bell Charity Ball, which he will do for the third time this year; The Neighborhood's Wine and Bourbon Ball; Small Business Awards Breakfast; multiple events for the Paramount Arts Center and ACTC; and an event for the governor of Kentucky.
Boggs said his time at ACTC helped refine his skills in a field he was already passionate about.
"Culinary Arts is the other thing I am passionate about," he said. "I don't see myself doing any other career. I got the basics of everything I needed to know. It was a great two years of schooling."
Shelia E. Justice, of Grayson, graduated from the Culinary Arts program in May and started a catering company called Justice Catering Service.
"I chose ACTC because it was the closest school, geographically, that offered the degree I was seeking and the tuition was reasonable," Justice said. "I chose this field of study because food is my passion. I've been cooking professionally for over 10 years, and cooking at home since I was a child."
For those who have a passion for cooking but have never been in a commercial kitchen shouldn't shy away from the opportunity.
"I would highly encourage anyone with an interest in cooking or in restaurant management to enroll in the Culinary Arts program at ACTC," she said. "Even if you've never been in a commercial kitchen, you will soon find yourself feeling right at home. By the time you graduate, you will have the skills to walk into any restaurant kitchen with knowledge and confidence."
Bradley said in the 17 years since the program began, at least a few hundred students have graduated.
"I feel that we are very fortunate to have an outstanding Culinary Arts program right here in Eastern Kentucky that has given the opportunity for many residents of our surrounding communities to obtain specialized training in Culinary Arts," she said. "We are looking forward to many more successful years of training students.
To find out more about the Culinary Arts program, visit ashland.kctcs.edu/academics or contact Bradley at peggy.bradley@kctcs.edu.