KY Power presents third installment of $815,000 grant to ACTC
Published on Jul 21, 2017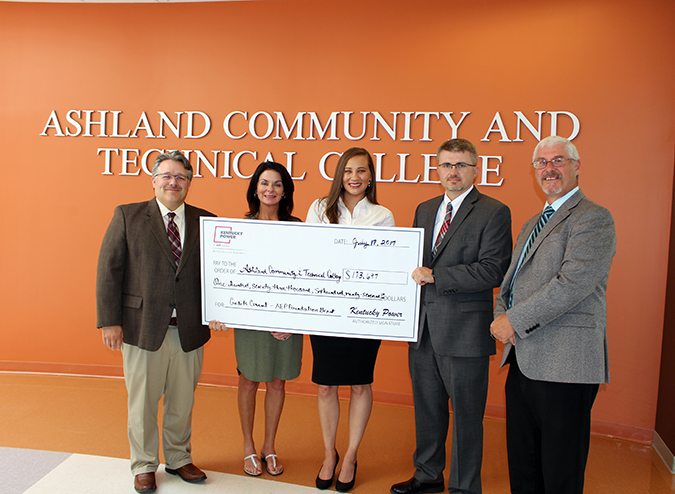 Kentucky Power recently delivered the third installment of an $815,000 multi-year grant that is funding efforts to boost science, technology, engineering and math (STEM) education in Lawrence County Schools.
The American Electric Power (AEP) Foundation Credits Count Grant, announced in 2015, is being funded over five years in partnership with Ashland Community and Technical College (ACTC). Since the first installment, ACTC has worked with Lawrence County Schools to expand STEM offerings and dual credit options. About 2,500 students stand to benefit from the grant. The project is designed to reach students as early as middle school to nurture their interests in STEM careers. As they advance, the project helps them earn college credits or career certifications by the time they finish high school. Monday's grant installment totaled $173,697.
"Kentucky Power and the AEP Foundation support improving lives through education," said Kentucky Power President Matt Satterwhite. "Far too often, we hear of barriers such as the cost of tuition that keep students in eastern Kentucky from moving on to higher education and reaching their goals. By helping students earn college credit and career skills while still in high school, this grant is major investment in our children, our communities and the future of eastern Kentucky."
The Credits Count grant provides for:
• Middle school STEM experiences to engage students as early as possible in college exploration for STEM-related careers;
• College course readiness assessments to identify gaps in writing, math and reading that may need tutoring support;
• A summer bridge program to provide any needed English and math remediation prior to students entering the dual enrollment program;
• Dual enrollment in high school and at Ashland Community and Technical College.
"We thank the AEP Foundation and Kentucky Power for the opportunity to expand educational services for Lawrence County," said Dr. Kay Adkins, ACTC's president and chief executive officer. "AEP and Kentucky Power has supported the college for years, and we are grateful for their commitment to quality education. We know the importance of postsecondary education and STEM achievement to the future of our region. This partnership will help many students prepare for college success."
The AEP Foundation is funded by AEP and its utility operating units, including Kentucky Power. The Foundation focuses on improving lives through education in science, technology, engineering, math and the environment and by meeting basic needs for emergency shelter, affordable housing and the elimination of hunger. Kentucky Power, with headquarters in Ashland, provides service to approximately 168,000 customers in 20 eastern Kentucky counties.