Child care provider trainings offered
Published on Aug 3, 2017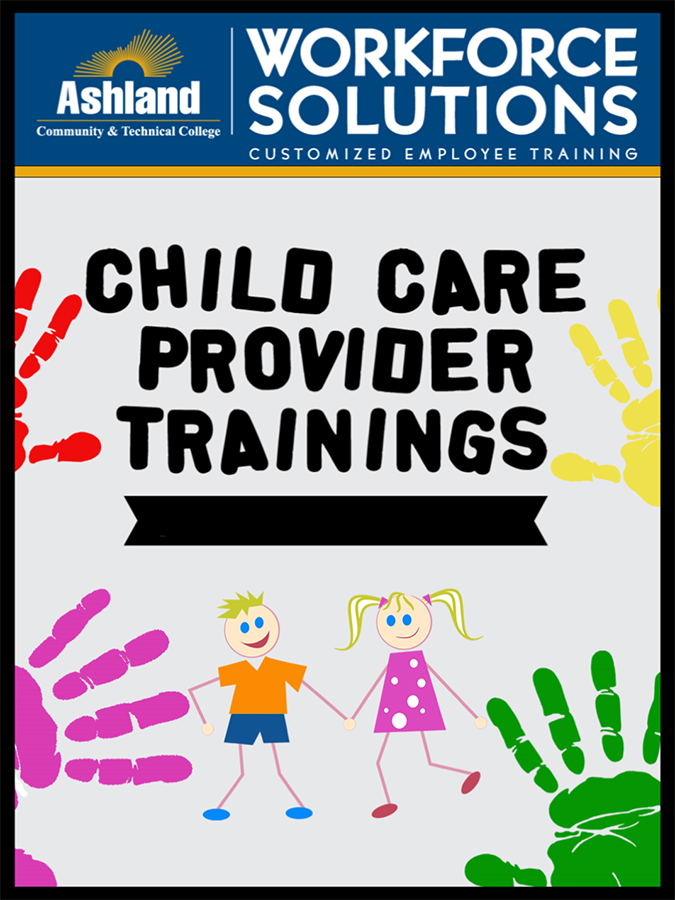 ACTC is once again offering child care provider trainings. The cost is $15 per person per class. Fee must be paid at the time of registration.
Each three-hour class is taught by an ECE TRIS certified instructor and will be submitted to ECE TRIS for Child Care Provider Training hours. All classes will be at ACTC's Roberts Drive Campus located at 4700 Roberts Drive, Building 5, Ashland.
Art Matters is the first class from 6-9 p.m. on Aug. 15. Participants will gain knowledge from research-based developmentally appropriate strategies to incorporate art activities to aid in developing cognitive skills, social skills, problem solving skills and increase motor skills in young children through the classroom routine. This class is designed for preschool and family child care staff.
Other upcoming classes are:
Bullying in Early Childhood (9 a.m.-noon, Aug. 19): Participants will be able to identify bullying among young children and how the bullying looks different from older children, how to prevent pre-bullying behavior from turning into bullying, how to incorporate intervention strategies into classroom curriculum, learn the effects of bullying and more. This class is designed for family child care staff, school age staff and preschool staff.
Exploring Experimental Science with Young Children (6- 9 p.m., Sept. 19): Participants will acquire strategies for creating an environment that encourages children to learn science through hands-on exploration of their world. Educators will gain the ability to promote the developmental approaches to learning, observation skills, descriptive skills, problem solving skills, recognition of cause and effect and organizing and classifying.
Social and Emotional Health: Challenging Behaviors (6-9 p.m., Oct. 17): Participants will identify how social and emotional health can influence challenging behavior as well as how to handle conflict in the childcare setting. Tips and strategies to prevent challenging behavior will also be introduced. This class is designed for all staff.
Challenging Behavior (9 a.m.-noon, Nov. 11): Participants will discuss today's challenging behaviors and practice strategies for teaching age appropriate behaviors and guiding preschool children's behavior in positive ways. Discussions will include defining typical behavior, defining atypical behavior and identifying strategies for addressing inappropriate behavior. This class is designed for all staff.
Extreme Misbehavior, When Health and Safety are at Risk (6-9 p.m., Nov. 14): Participants will identify health and safety issues related to misbehavior and determine when it is appropriate to exclude a child from participation. Strategies to help protect other children in the classroom will also be discussed. This class is designed for all staff.
Dramatic Play: The Importance of Pretending (6-9 p.m., Dec. 5): Participants will discover the importance of pretend play through an exploration of executive function. Participants will also learn how to set up and equip a dramatic play learning center to maximize learning through play. This class is designed for all staff.
Assessment for Development and Learning (9 a.m.-noon, Dec. 9): During this training, participants will learn the purpose of assessing children's development and learning through interpreting evidence to identify which children already know, can do and are ready to learn. How to advance learning and development in response to individual children's strengths, abilities and needs will be discussed as well as using intentional strategies to ensure children's learning progress. This class is designed for all staff.
Participants can call 606-326-2130 or 606-326-2072 to register or visit ashland.kctcs.edu/workforce_solutions/ to register online.