Cast-Iron Chef Credits ACTC for Her Skills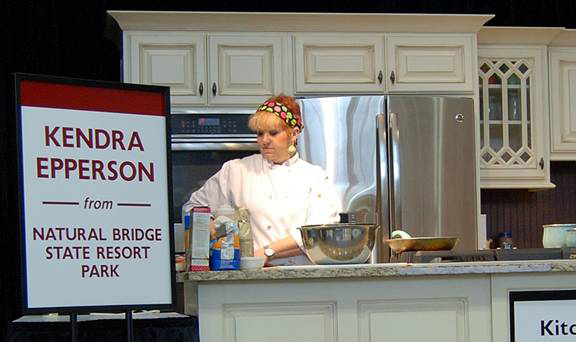 I dont believe I would be where I am today without ACTCs Culinary Arts Program, said Kendra Parks Epperson, a Cast-Iron Chef winner at the Kentucky State Fair last month.
The wonderful teaching skills of Professors Barbara Dunn and Peggy Bradley made me the chef I am today, said Epperson, a 2006 ACTC graduate of ACTCs Culinary Arts Program.
This was the second time the Southern Ohio resident won a Cast-Iron Chef award at the Fair. I feel awesome that I have competed three times and won twice, said Epperson who has been the chef at Natural Bridge State Resort Park for two years. I compete to show people that Kentucky state parks have some of the best chefs in the state.
In this years competition, Epperson was given secret ingredients for preparing a flawless entre in 30 minutes. She cooked sirloin steak with sauted onions, fettuccine alfredo with vegetables and a creamy southwest roll up. Her award was based on taste, presentation and creativity of the dish.
A southern Ohio native and graduate of Green High School, Epperson started at Shawnee State University and had originally planned on a degree in deaf education at Kent State or Eastern Kentucky University. She chose to stay in the area to take care of her ailing mother and decided to try culinary arts as a career.
Im glad I chose culinary arts, and I am lucky that there was a quality program so close to my home, which was then in Franklin Furnace, she said. ACTC has a terrific program. While its true that you dont really know the restaurant business until youve been in it, I feel my classes and teachers prepared me really well for the real world.
After graduating from ACTC, she was a chef at the Greenbo Lake State Resort Park, and that was when she won her first Cast-Iron Chef award. As chef for the Natural Bridges Sandstone Arches Restaurant, she now lives on park grounds in Slade, KY.
As a way of giving back to the Culinary Arts Program, she serves on the advisory board to help with ideas on meeting todays workplace needs and reaching new students. I hope to bring courage to young students who may be wondering about choosing Culinary Arts. I want to tell them that if you love what you do, you should go for it.
Epperson plans to follow her own advice about going for it and wants keep moving up in her career. I am not stopping at Chef 1, she says. Who knows, you just might one day catch me on the Food Network, she added with a laugh.
For information on the Culinary Arts Program, go to the website at ashland.kctcs.edu or email Peggy.Bradley@kctcs.edu or Barbara.Dunn@kctcs.edu.
The program combines cooking, management and people skills to help students succeed as a professional chef, small business owner or restaurant/food service manager. Classes are held in a restaurant grade kitchen as the Technology Drive Campus.
The Associate in Applied Science Degree program offers options in Catering, Culinary Arts, and Food and Beverage Management. Three diplomas and six certificates for specialized skills are also available.