ACTC Students Bring Art to Crabbe Elementary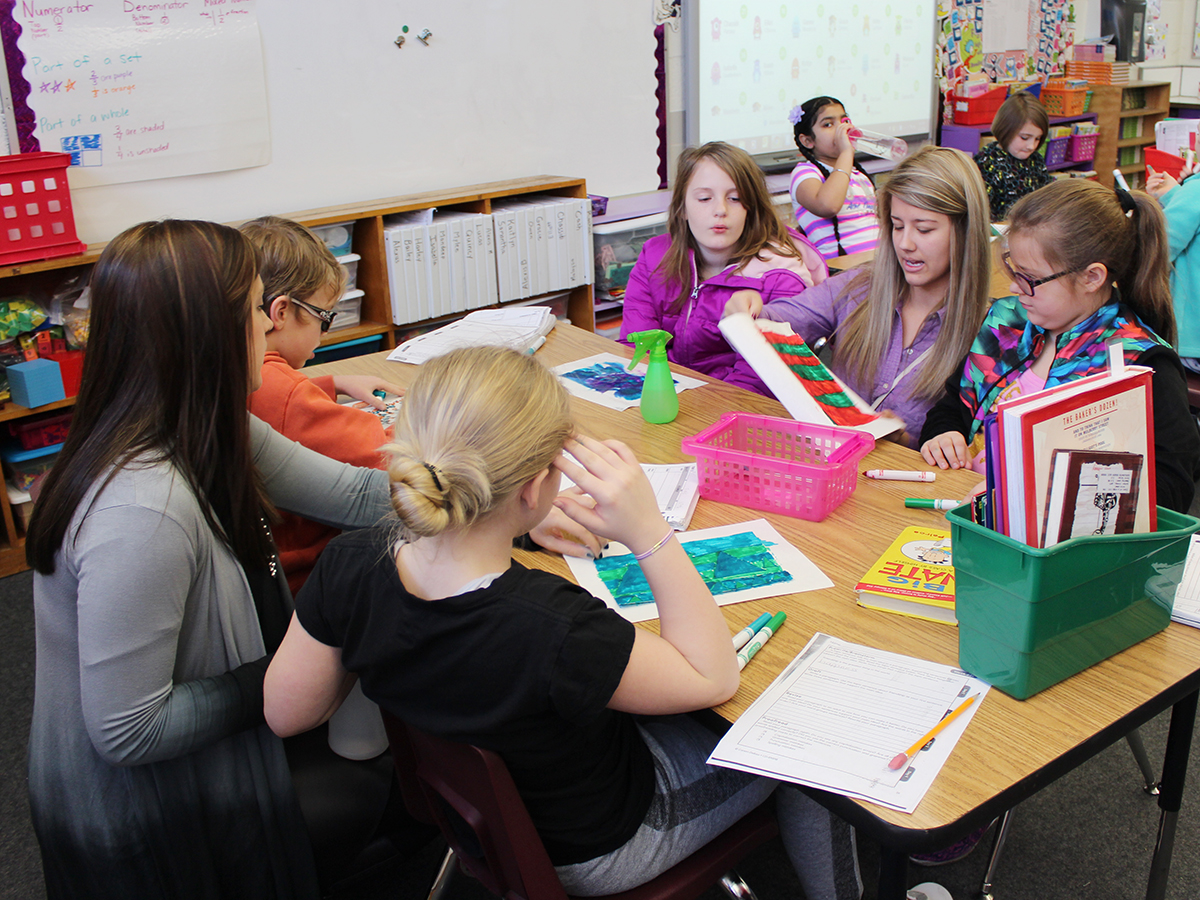 Shown helping students in Katie Bryant third grade class at Crabb Elementary are, from left, ACTC students Alexandra Young and Taylor Benge.
Some Ashland Community and Technical College education students are teaching art at Crabbe Elementary School this semester as part of an ongoing Art Education Project that brings education students into elementary classrooms.
ACTC has been providing these art enrichment classes for so many years that one of the former elementary students, Jamie Campbell, is now the Principal at Crabbe. I remember the art class from when I was at Oakview Elementary, and Im glad the college is still providing this opportunity for students, he said.
Its an absolute pleasure to have the ACTC students here, Campbell said. The children look forward to having them come, and the teachers have an opportunity to put theories into practice. This is a win-win situation for everyone.
The project gives education students hands-on teaching experience and provides an art resource for area schools.
I think its important to provide art experiences in elementary schools, and our students can put into practice some of the techniques they've learned as artists while practicing their teaching techniques, said Wendy Fosterwelsh, ACTC Professor of Art. My students who go out to teach art are all education majors, and their experience in the classroom is a beneficial addition to their education portfolios.
Five ACTC education majors who have had an art class with Fosterwelsh are involved with the project this semester. The project involving kindergarten, third and fifth grade classes, is Poster Artists of the Month. Students learn about a famous artist each month and look at prints of the artists most famous works. Then they get to experiment using different techniques to create the same style of artistic expression.
This is a chance to be creative without thinking about grades, and they absolutely enjoy it, said Katie Bryant, the Crabbe third grade teacher involved in the project this year. I know my students benefitted last year, so I volunteered to have the ACTC students teach the class again this year.
Alexandra R. Young, a Paul Blazer 2014 graduate and Catlettsburg resident majoring in Elementary Education, is one of the ACTC teachers. I really like working with the students, she said. I found art interesting as a child and enjoy teaching students about different artists and giving them hands on experience in being creative. The students love the activities we do and that makes it easier to go in and teach them.
Working at Crabbe has made me realize that this is exactly what I want to do with the rest of my life, and it makes me so excited about the future, Young said. After earning an ACTC Associate in Arts Degree, she plans to transfer to Morehead State University for a Bachelors Degree in Education. Her goal is to teach kindergarten or first grade.
Young and the other art students are volunteers who want to gain classroom experience. I tell my students about the opportunity, and they do all the work, said Fosterwelsh. An anonymous donor provided ACTC with money for the art supplies this year, and included enough to give the students a stipend for teaching the classes.
Its nice to be paid, but Id do it for free, said Taylor N. Benge, a 2013 Boyd County High School graduate and Ashland resident. Between this and my observations, I know I want to be an elementary teacher. I volunteered to teach the class even though I dont have an art class at ACTC this semester, and I thoroughly enjoy it.
Even though they are not planning to become artists themselves, the ACTC students like working on art projects with their students. The children love it, and seeing how the students are proud of their final results is one of the things I enjoy most, said Cassandra L. Creswell, a Flatwoods resident and concurrent student at ACTC and Morehead State University.
I feel this is a great learning experience for myself, Creswell said. Interacting with the children helps me get comfortable with being in the classroom and gives me an idea of what its going to be like after graduation. Doing this program has assured me that elementary education is truly my passion.
The benefits of the program go beyond encouraging children to express themselves and helping education majors prepare for the classroom.
Art is a way to encourage creativity, and creativity is our #1 human resource for the 21st Century, said Fosterwelsh. It forces you to think outside the box to solve problems with new solutions. We need creative people more than ever to ask questions, create new ideas and not be afraid of taking risks to get to the goal.
For information on ACTC art courses next fall, email: wendy.fosterwelsh@kctcs.edu.
Elementary majors such as the art project students can start at ACTC for an associate degree that will transfer to area universities. For more information, contact Associate Professor Warren Howard, email: warren.howard@kctcs.edu.