ACTC Student Team Does Well in Idea State U Competition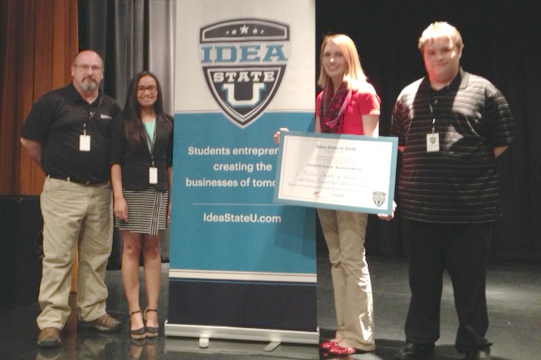 Shown from left at the Idea State U Regional Competition Awards Ceremony are ACTCcompetition team members Michael A. Cheek from Wheelersburg, OH, Sri Lewis from Raceland, Halie E. Dearfield from Rush and Brian D. Robinette from Louisa.
The student team from Ashland Community and Technical College placed 4th in theBusiness Model category at the Idea State URegional Competition held March 30 at Big Sandy Community and Technical College. They will advance to the state competition on April 22 and 23 in Lexington.
Rollin Smoke of Ashland is the name of their business. According to the plan, a food truck would provide a hot lunch of smoked barbeque sandwiches and side dishes for people who do not have time to travel for a delicious meal.
I think it is fantastic that our students did so well in competition with four-year institutions, said Molly Webb, Associate Professor of Business This is ACTCs first year in Idea State U, and we are looking forward to the state competition.
Idea State U is a KY Cabinet for Economic Development initiative for post-secondary institutions designed to create and promote a strong culture of entrepreneurship and encourage small business growth. Eighteen colleges and universities participated this year.
For the Business Model competition, students in Webbs Applied Management Skills class came up with a plan for starting a new business. They formed different teams to provide a concept overview, product description, market opportunity, management, operating strategies, risks and profit potential. A subgroup of students formed the competition team.
We had to put the knowledge and skills we learned from textbooks into a business model that actually can work and be profitable, said presentation team member Sri Lewis. A December graduate, Lewis is working on a Bachelors Degree in Applied Management at Ohio University-Southern.
Mick Fosson, Director of the Kentucky Innovation Network Office in Ashland, organized the Idea State U competition in N E KY, and met with the class to help with their business model. He brought Mike Thompson, a member of the Tri State Angel Investment Group who has extensive restaurant experience, to help with the team project.
We found that Molly Webb had prepared the students very well for the different aspects of planning, Fosson said. We were impressed by the students and pleased that they represented our area and ACTC well in the regional competition. The Innovation Office helps entrepreneurs and small business owners plan, build, launch and grow their business.
Being in the regional competition was scary, stressful, exciting and beyond nerve racking, said presentation team member Halie Dearfield. I really enjoyed the networking opportunities and getting to meet so many entrepreneurs. She is graduating from ACTC in May and considering her next educational step.
Not only are the students learning different facets of business, they are putting their knowledge to use in a real life situation, said Webb. We hope that this business model will become a business reality for one or more of our students.