ACTC Puts Technology on Wheels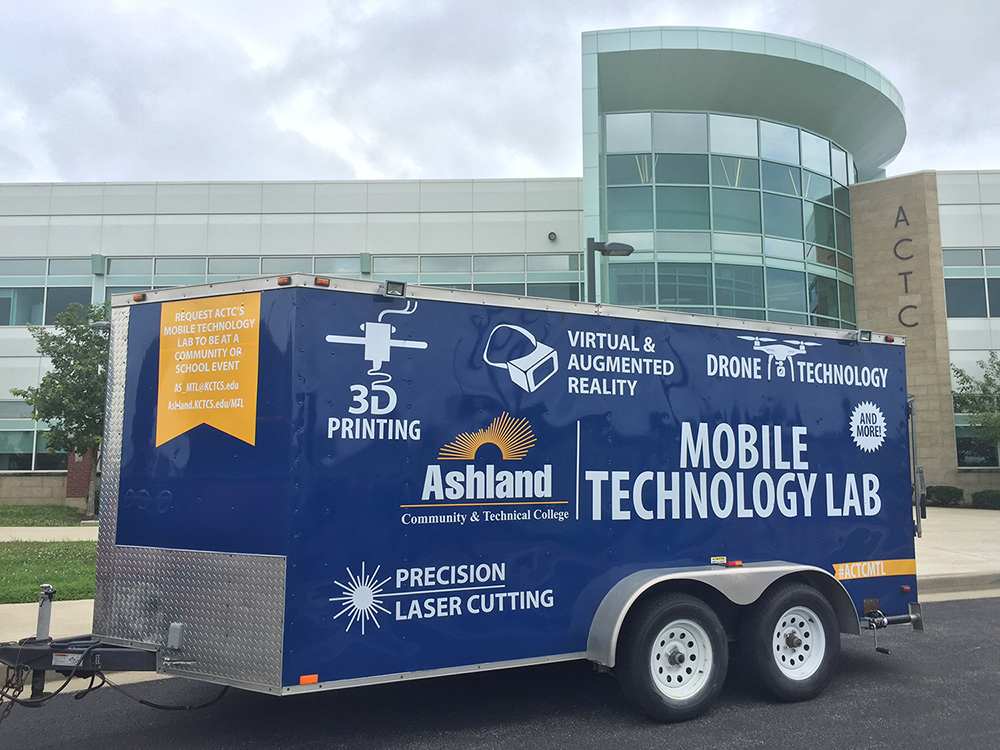 What started as a way for Ashland Community and Technical College to interest a few students in technology has become an interactive traveling classroom that has reached nearly 1,000 youth and adults so far this fall.
ACTCs Mobile Technology Lab (MTL) is a 16-foot trailer outfitted with 3D printers, laser engravers, 3D printer pens, virtual reality goggles, unmanned aerial vehicles (UAVs or drones), simple computing and programming devices, and augmented reality programs. This is a way to bring the technologies of the future to students at the schools and public events, said Karen Coburn, ACTCs Workforce Solutions Director.
Our goal is to create excitement, engagement, and long-term interest in the fields that have proven to consistently offer high-wage, high-demand jobs, Coburn said. Our efforts will encourage the development of creative, critical, and independent thinking skills, enhance team-building, and help FIVCO students find their passion.
The MTL began as a way to showcase STEM (Science, Technology, Engineering and Math) education that has been receiving increasing interest from educators, business leaders and government policy makers. STEM is a way to both prepare youth for future high tech jobs and a way for businesses to find the employees they need to be competitive in the world economy.
In a few short months, the MTL has evolved from a technology display to a hands-on classroom experience.
This is really cool, said Julia Wallace, a fourth grade student who looked through the virtual reality goggles during a MTL visit to Fairview Elementary School on October 4. She liked experimenting with the 3D pen and is especially interested in robotics.
Its wonderful that the college brings this lab to us. It fits in well with our Student Technology Leadership Program (STLP) and shows some of the technologies we hope to incorporate into our school, said Jerelyn Grant, a Fairview fourth grade teacher.
The Labs hands-on experiences interest students in STEM subjects and engage them in learning, Grant added. We hope to build on this interest and encourage them to consider technology careers in the future.
In addition to visiting schools this fall, the MLT has visited Ready Fest events, Ashlands Poage Landing Days, and a Boyd County Public Library event at the KYOVA Mall. Sessions were also held for the Ashland Alliance Community Leadership Development Program and the ACTC Board of Directors.
The MTL will continue community and school visits through October. The program curriculum is flexible to meet the needs and requests of the schools and groups. The trailer can be on site for one full day with ACTC faculty and staff conducting a variety of experiments and activities based on age level. To schedule a visit, email: as_mtl@kctcs.edu.
From a Modest Vision to Big Results
Several years ago, an anonymous donor asked the college to find a way to deliver STEM education to underprivileged students. Coburn worked with Chris Boggs, Associate Professor of Computer and Information Technology, to get area schools to participate in FIRST LEGO competitions.
Then they were inspired at a Kentucky IdeaFest by the MakerMobile idea of delivering technology solutions in a trailer. We purchased a used 16-foot trailer and begin work on our version of MakerMobile, Coburn said.
Our Mobile Technology Lab was a labor of love, said Boggs who worked on adding a floor, walls and ceiling to the trailer. Electrical students added the wiring, and a truck to pull the trailer was donated locally.
While the original MakerMobile concentrated on 3D printing, the MTL explores many new technologies. The trailer contains permanent computing and 3D printing equipment. Mobile headsets and 3d pens are moved to tables under a canopy in order to serve many students at a time.
The MTL started with a few virtual reality headsets and 3D pens to use for demonstrations, but with additional funding from a USDA grant, the lab is acquiring enough of the portable equipment to take care of an entire class at one time.
ACTC received a $50,000 USDA Rural Business Development Grant for an Emerging Technologies / Entrepreneurial Training Project, and $5,000 has been earmarked for the MTL. Additional grant activities include workshops on emerging technologies such as microprocessors and how they relate to potential workforce development, entrepreneurship and job creation.
In the past, one busload of approximately 35 students would be transported to a conference or event at the college, said Coburn. With the MTL, now all students at any grade school or middle school in the FIVCO area can be served on their own campus. This provides a safe and fun environment for learning in a cost-effective manner for area schools.
"Jobs in the future are all going to be technology based," said John C. Stewart, Jr., Chair of the ACTC Board of Directors. "This technology trailer gives the students of the area a hands on experience with technology to stimulate their interest. Hopefully this interest will translate in to careers in technology that will encourage industry to locate in our area. Technology jobs will replace some of the lost industrial jobs in the area."
Evolving to Meet Emerging Needs
The response to MTL has been greater than expected. Its exploded, said Chris Boggs. I thought wed be doing something several times a semester, and now were doing something several times a week. Obviously we have come up with a project that meets area needs.
This is not just a Workforce Solutions project, its a college project, Boggs said. Workforce Solutions staff are helped by college faculty and staff to crew the lab. ACTC is also using some of the new technologies in college classes. For instance, a 3D printing class is now offered as a way for students to meet their digital literacy requirements for a degree or diploma.
Even as we try to supply the MTL with enough current technology devices, we have to keep an eye out for what is coming next. We want to keep up with changing technologies so that we can better help prepare students for the world they will live in, Boggs said.
STEM itself is evolving into STEAM, with the inclusion of Art as a way to promote creativity and innovation, Coburn said. Some elements of art are apparent in the 3D creation process.
Our MTL activities stimulate imagination, excite curiosity, encourage experimentation and expand the students view of future possibilities, Coburn said. By exposing grade school and middle school students to these technologies early on, students can better prepare for their future by selecting appropriate classes and academic tracks.
We are extremely pleased with the response the MTL has received, Coburn said. Children love it, and the adults who bring their children often end up getting in line to take their own turn at the activity table.
We will continue our visits as the weather allows, she said. During the winter months when outside activity would be difficult, we hope to use the equipment in a makerspace in the ACTC Library. This would help our own students as well as visitors.
The MTL is a work in progress, and were still adding new things, Coburn added. Weve preordered The Slate, which merges the technical world with traditional art, and we will be getting a robot used for elderly and Alzheimers patients.
Were working on additional grant proposals to increase the depth and breadth of the technologies we can showcase, Coburn concluded. We expect next year to be even more exciting than this one.