ACTC Presents a Christmas Carol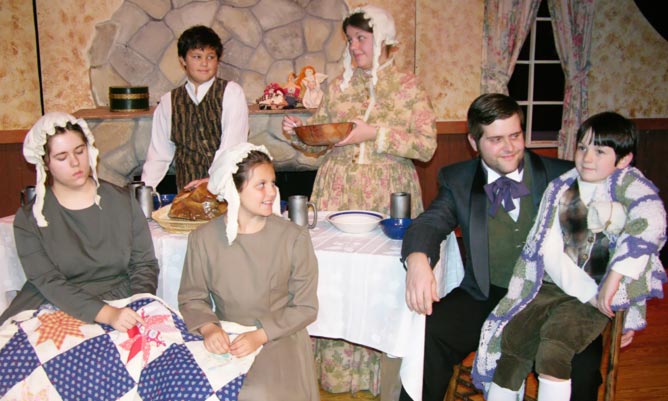 Ashland Community and Technical College Theatre will present the Christmas classic, A Christmas Carol: Scrooge and Marley on December 1, 2, 3 at 8:00 p.m. and December 4 at 2:30 p.m.
This is ACTC Theatres 18th presentation of the heartwarming tale of Scrooge, Bob Cratchit, and Tiny Tim. The classic novel by Charles Dickens, adapted to the stage by Israel Horowitz, has become a holiday favorite for all ages.
The production grows more dazzling each year, said ACTC Director of Theatre Edward Figgins, Associate Professor of Theatre and Communications. The beautiful costumes and elaborate scenery give a new look to the musical, and a new cast brings a fresh perspective to the story.
Danny Mahan, ACTC Associate Professor of History, portrays Scrooge, and Roger Hagley, a staff member of ACTC IT Department, portrays Jacob Marley.
ACTC student Aaron Mathews from Ashland is Bob Cratchit, and Huntington resident Allison Smith is Mrs. Cratchit. ACTC Theatre major Aaron Picklesiemer from Greenup is Scrooges nephew Fred, and Russell High School junior Haley Clay portrays Freds Wife.
ACTC students in the cast include Aaron Hamilton and Michael Seagraves from Ashland, Shaela Scaggs from Worthington and Aaron Pennington, Fort Gay, WV. The rest of the multi-talented 50-member cast is comprised of adults and third grade through high school students from throughout the tri-state area.
Professor Mahan is also the production director. Max Jackson, ACTC Professor Emeritus of Music, is the musical director and he wrote the background score of the English carols featured in the production. Professor Figgins is the producer and scenic/lighting designer. Paula Krepsik is the costume designer.
Performances are in the J. B. Sowards Theatre on the ACTC College Drive Campus. Tickets are $8 for adults and $5 for students, seniors and groups of 10 or more. ACTC/MSU-Ashland student tickets are $2. Tickets may be reserved with a major credit card through the College bookstore, 606-326-2014. Unsold tickets will be available at the door, for cash or check payment only.
Matinee performances for area school children will be held Wednesday to Friday, Nov. 30-Dec. 2, at noon. For more information, contact Professor Figgins at 606-326-2073 or email: edward.figgins@kctcs.edu.