ACTC Marshall Sign Pharmacy Agreement
Ashland Community and Technical College (ACTC) and the Marshall University (MU) School of Pharmacy signed an articulation agreement November 2 to help transfer students.
The MU PharmD Program (Doctor of Pharmacy) is structured as a 2 + 4 program, with students completing two years of college prerequisites before beginning the four-year professional program This articulation agreement lists the two years of ACTC courses that would satisfy those prerequisites.
ACTC students who complete the required courses with at least a 3.4 grade point and who satisfy other listed transfer requirements will receive preferential consideration from the Pharmacy School during each admission cycle.
This agreement offers our students a valuable option for continuing their education, said Dr. Kay Adkins, ACTC President and CEO. Health care is an important occupational area in Eastern Kentucky. Giving students a new option for continuing their education close to home helps them achieve their goals and also helps our health care providers and communities.
By collaborating with MU to provide seamless transfer into a professional program, we make higher education more accessible to students in the area, Dr. Adkins said.
This agreement serves to fulfill the mission of ACTC and Marshall University School of Pharmacy in meeting national and regional employment opportunities, and directly links students to dynamic, state of the art education platforms and experiences, said Dr. Kevin W. Yingling, Dean of the MUs School of Pharmacy.
We look forward to growing our strong relationship with ACTC, Dr. Yingling said.
ACTC and MU have previously signed articulation agreements in Business Administration, Biology, Chemistry, Early Childhood Education, Forensic Chemistry and Journalism.
For more information on ACTCs pre-professional health care options such as pharmacy, contact Professor Mary Catherine Flath, 606-326-2099 or email: marycat.flath@kctcs.edu.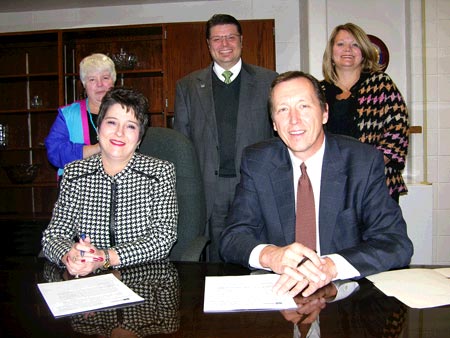 Dr. Kay Adkins and Dr. Kevin Yingling, shown in front, signed at the ACTC-MU Pharmacy Agreement on November 2. Standing at back, from left, are Dr. Janie Kitchen, ACTC Dean of Academic Affairs; Dr. H. Glenn Anderson, Jr., MU Associate Dean for Academic and Curricular Affairs; and Nicole Griffith-Green, Division Chair for Math amp; Natural Science.