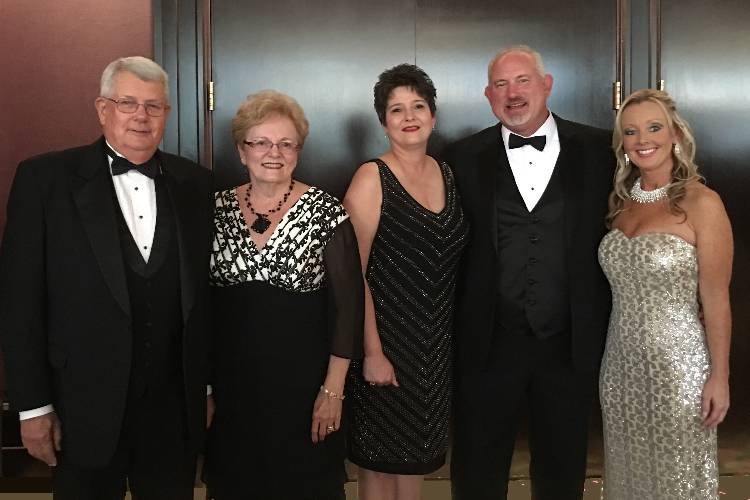 Shownat the 2016 KCTCS Philanthropy Awards Dinner, from left, are Ed and Louise Shytle, ACTC President and CEO Dr. Kay Adkins, Rick Clark and Amanda Stewart.
Ashland residents Ed and Louise Shytle and Clarks Pump-N-Shop have been recognized as ACTC benefactors of 2016. They were honored at the Kentucky Community and Technical College System Celebration of Philanthropy Awards Dinner held October 1 in Louisville.
With their philanthropy and service, Louise and Ed Shytle strive to improve the educational opportunities of students and the quality of life in the community. Louise retired from ACTC after 30 years of service, including 13 years as Dean of Advancement and Executive Director of the Community and Technical College Foundation of Ashland.
Louises friend-raising and fundraising efforts promote the success in the colleges Fulfilling the Promise Campaign which raised over $5.3 million, more than $2 million over the goal. Under her direction, the Foundation increased support for student scholarships, faculty/staff development and college services.
Brothers Rick and Brent Clark, the owners of Clarks Pump-N-Shop, and their father John have been proactive in supporting college initiatives to improve student and workforce services. John is a member of the ACTC Board of Directors, and Rick is a members of the Community and Technical College Foundation of Ashland, Inc. Board of Directors.
Rick and Brent recently established the Rodney D. Clark memorial Scholarship Endowment Fund in memory of their brother who passed away this year. The Clark family has been active with college advocacy and advancement related activities. They were lead contributors to the BuildSmart initiative, and they are a major supporter of the annual Golf Tournament.
Benefactors are important in helping the college meet student needs, improve educational opportunities, build facilities, inspire college achievement and increase community-serving programs, said Dr. Kay Adkins, ACTC President and CEO. We are grateful for their support.