ACTC and KCU Sign Nursing Articulation Agreement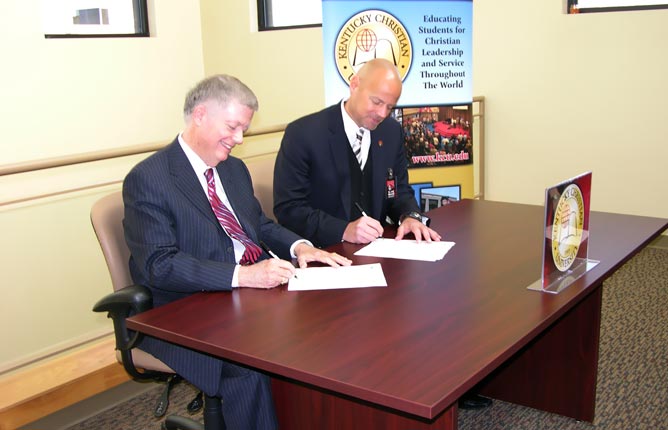 Ashland Community and Technical College (ACTC) and Kentucky Christian University (KCU) signed a nursing articulation agreement Thursday, December 8, to help transfer students.
The agreement applies to ACTC students who are accepted into the Bachelor of Science Degree in Nursing Program at KCU. The agreement establishes guidelines for transferring Arts and Science courses from ACTC to the KCU Yancey School of Nursing. With these guidelines, students who are planning to transfer can select courses that they know will count toward the BSN at KCU.
Dr. Jeff Metcalf, President of KCU, states that, We at KCU are extremely pleased to partner with ACTC in making it as seamless as possible for ACTC graduates to continue their education. ACTC and KCU share a passion for helping meet the educational needs of our community and our programs are complimentary, not competitive. We are natural partners.
This agreement offers our students a valuable option for continuing their nursing education, said Dr. Greg Adkins, ACTC President and CEO. By collaborating with KCU to provide seamless transfer into a baccalaureate program, we make higher education more accessible to students in the area.
Health care, and particularly nursing, is an important occupational field in Eastern Kentucky, Dr. Adkins said. Giving students and graduates a new option for continuing their education close to home helps not only the nursing professionals but also our health care providers and communities.
The nursing articulation agreement, the first articulation agreement to be signed between the two institutions, will go into effect in Spring 2012.
"This is basically a 1 + 3 program, said Abigail Beck, Dean of the KCU School of Nursing. Students who seek a Bachelors Degree in Nursing can complete one year at ACTC and three years at KCU. This will produce a savings of around $9,000 to students who choose this route to their degree.