ACTC to host 2023 Kentucky Hunger Dialogue
September 19, 2023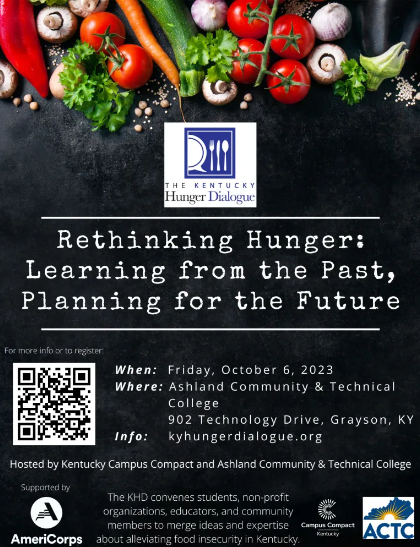 Ashland Community and Technical College is proud to host the 2023 Kentucky Hunger Dialogue in collaboration with the Kentucky Campus Compact. This will be the sixth year the event has been held.
"The Kentucky Hunger Dialogue offers a valuable opportunity to exchange ideas about food insecurity and promote action," Megan Horne, ACTC Director of Student Support Services shares. "This annual event has been held at various college campuses across Kentucky. We are honored that ACTC was selected for this year's event and to be the first community college to host."
This year's theme is "Rethinking Hunger: Learning from the past, planning for the future." Kentucky's Commissioner of Agriculture, Ryan Quarles, will be featured as the keynote speaker.
"We are elated to have Commissioner Quarles on campus to help guide our thoughts on addressing hunger in our communities and with our students." ACTC President Dr. Ferguson commented.
As Commissioner, Quarles has made numerous strides to bring about both conversations surrounding the topic of combatting hunger, as well as actions to further connect Kentucky farmers to markets.
The Kentucky Hunger Dialogue exists to bring communities together and provide a space for conversation, idea development, and a platform to further develop solutions to help fight food insecurity. The event is open to all high school and college students, faculty and staff, non-profit organizations, family resource centers, community recovery and mental health centers, and more. All are welcome to attend.
"Hunger impacts college students, but also so many other people in the region. I look forward to engaging in this effort to combat food insecurity," Horne concluded.
The event will be held at ACTC's Technology Drive campus on October 6, 2023. As the date fast approaches, be sure to register by September 28 at https://kyhungerdialogue.org/khd-2023/.