ACTC adds new staff and faculty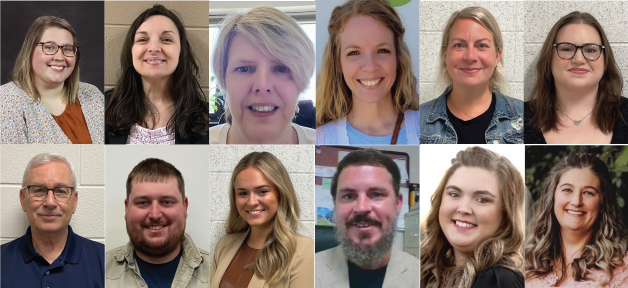 August 30, 2023
Ashland Community and Technical is excited to announce the hiring of nine new faculty & staff members over the summer.
Kayla Acosta was hired back in July and is serving as an Academic Advisor and leads student activity initiatives. Acosta is from Grayson, Kentucky and previously worked as a teacher at Hager Elementary School.
Olivia Boskovic, from Proctorville, Ohio, was recently hired as a Biology Instructor. Boskovic was previously employed at Ohio University Southern as an adjunct instructor of Biological Sciences and an adjunct instructor of Chemistry and Biology at Mountwest Community and Technical College. Boskovic also worked in a research laboratory at Marshall University where she trained and mentored undergraduate and graduate students for the last three and a half years.
Carol Bowen, originally from West Virginia and currently living in Cattletsburg, Kentucky, was hired in July as a Nursing Instructor. Bowen previously worked in the Pulmonary department at Marshall Health and has a long history with hospice and Palliative care.
Rebecca Cochran was hired in July as an instructor for the Applied Process Technologies (APT) program and is from Argillite, Kentucky. Cochran is an alumna of the APT program and previously worked as an Operations Technician for Marathon Petroleum Company for 11 years.
Cara Craddock, from South Point, Ohio, joined ACTC as the Biology Lab Instructor III. She previously worked at the University of Kentucky Clinical Lab and Tennessee Department of Health Laboratory Services.
Sara Crawford was hired as Library Specialist. Originally from Highland Springs, Virginia, she is currently a resident of Russell, Kentucky. Previously, she worked at ACTC as a part-time Library Assistant II and a Lab Clerk at King's Daughters.
Brian Eagan currently from Ashland, Kentucky and originally from Huntington, West Virginia, was hired as an Instructor in the Electrical Technology Program. Eagan previously retired as an electrical supervisor from Kentucky Power in Big Sandy, Kentucky.
Thayer Himes is from Lewis County, Kentucky and was recently hired as a Welding Instructor. Himes previously worked at and still is a member of the Local 248 Plumbers, Pipefitters and Steam Fitters.
Madison Klaiber joined ACTC in August as the Public Relations Specialist in the marketing department. A Cattletsburg, Kentucky native, she currently resides in Painstville, Kentucky. She was previously employed by WalkFM in Ashland, Kentucky as the Social Media Management and Listening Engagement Coordinator.
Matthew Pfau, from Grayson, Kentucky, is returning to us as an Assistant Professor of Electrical Technology. Pfau previously worked as a Commercial Electrician at RJ Martin Electric.
Emily Willis, currently resides in Greenup, Kentucky and was recently hired as a nursing instructor for the Practical Nursing program. She previously worked as a travel nurse in Georgia and Lexington, Kentucky.
Sarah Wilson, from South Point, Ohio, was hired in July as a nursing instructor for the Associate Degree Nursing program. Wilson previously worked for OVP Health in South Point while earning her Bachelor of Science in Nursing and is currently working on her Master in Science – Nursing.