ACTC's honors organization holds virtual induction
May 11, 2021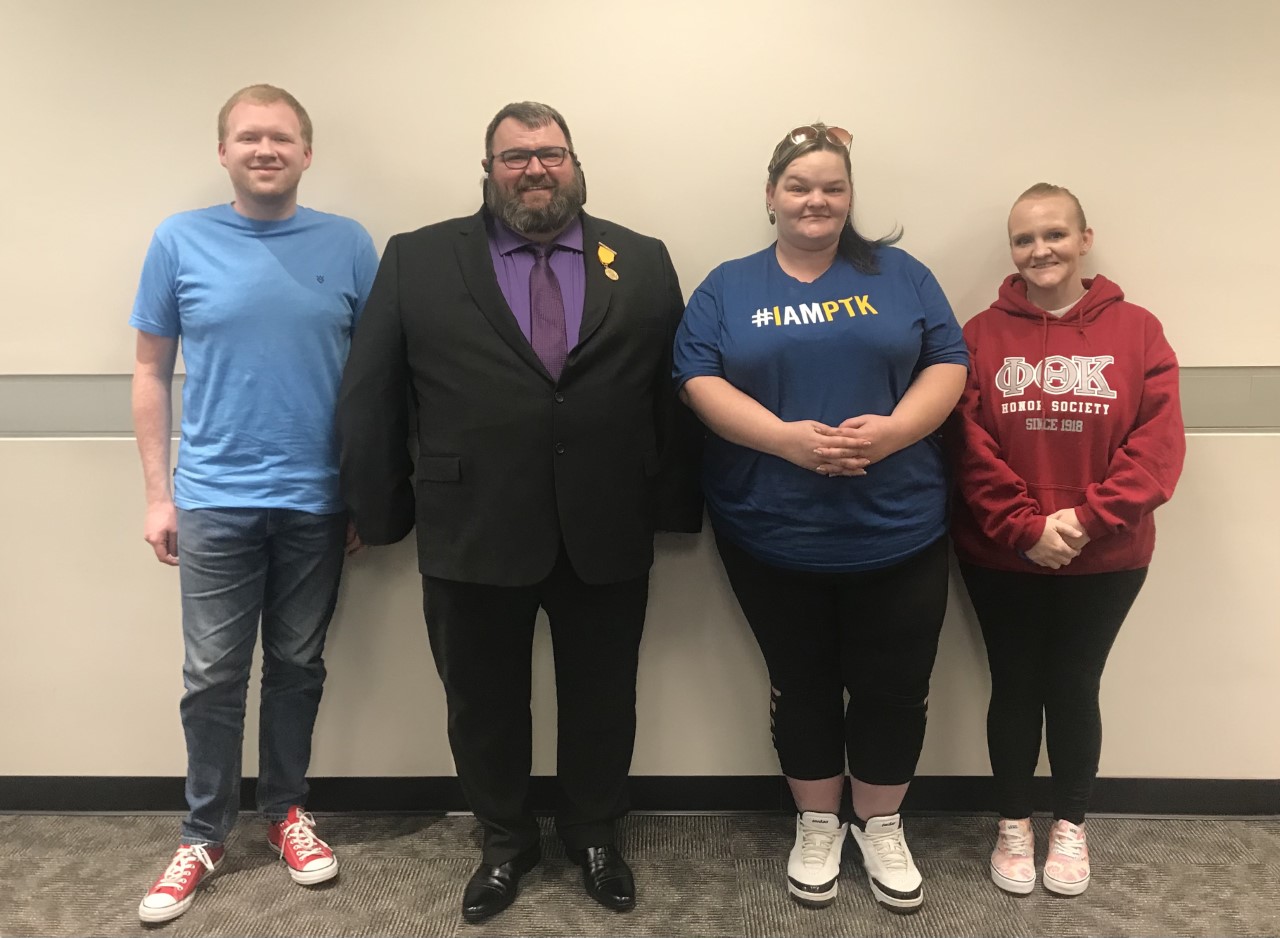 Phi Theta Kappa officers from left, Seth Hunt, James Allen Pauley-Barker (Chapter President), Shamae White, Andrea Shafer
ASHLAND, Ky. – The Alpha Omega Gamma chapter of Phi Theta Kappa (PTK) recently held their induction ceremony welcoming members from the 2019-20 and 2020-21 classes.
Speakers at the ceremony included Dr. Larry Ferguson, Ashland Community and Technical College (ACTC) President/CEO and Dr. Todd Brand, Chief Academic Officer.
"Phi Theta Kappa is more than just an honor's society," said Ferguson. "It's the opportunity to grow and develop the next generation of leaders in our community, our Commonwealth, and the nation."
He added, "I would like to congratulate all of the students online tonight for being selected to join this prestigious society of learners and leaders."
Dr. Brand, whose son is a member of PTK at the Mississippi college he attends, focused on the hallmarks of the organization, specifically ethics.
"Ethics and being an ethical scholar are a must for your life from this point forward. If you're going to be a leader, if you're going to be a scholar, this cannot be overstated," Brand said.
"Being an ethical person means you have to examine yourself in the world you live in. It's part of scholarship…it's the challenge of the scholar," he added.
Janet Thompson, PTK advisor, told inductees, "It is my pleasure to welcome you into this honor society, and the lively fellowship of scholars it affords. I salute you for your accomplishment. I charge you to explore always for truth and to dedicate yourself to the cultivation of the well-reasoned life, a prelude to service and honor."
Inducted students included: Christopher James Bradley, Charles Bundy, Desirae Carter, Austin Clifton, Brittany Cochran, Teresa Coffee, Michael Coffee, Desiree' Cook, Julie Cooksey, Tanner Scott Dickerson, Amanda Dawn Dillow, Sheena Donta, Lacey Estep, Kristen Nicole Followay, April Dawn Gilbert, Jennifer Gilkerson, Alexis Griffith, Rachel Halterman, Kiley Henderson, Seth Fielden Hunt, Amanda Jarvis, Arica Johnson, Shane Johnson, Veronica Kirk, Caitlyn Hannah Lindsey, Kathryn Lively, Maya Madden, Megan Magruder, Bridgette Larae McLendon, Timothy McKinney, Layne Meek, Joseph Merrill Jr., Eric Todd Moyers, James Allen Pauley-Barker, Amanda Perry, David Porter II, Brenda Elaine Ritchie, Halie Paige Rosser, Hannah Royster, James Thomas Salyer, Lakie Sussannah Sanders, Hailey Sexton, Andrea Lee Shafer, Lukah Sharp, Tabitha Skaggs, Scott Stanisky, Ashley Lynn Thomas, Shamae Nickole White and Kalah Ariana Wilburn.
The induction ceremony was conducted by the chapter officer team that consisted of James Allen Pauley-Barker, Andrea Shafer, Shamae White and Seth Hunt.
Advisors for the Alpha Omega Gamma chapter, which was chartered in 1994, include Janet Thompson, Cindy Shelton and Dan Bailey.