Nursing students use skills to give back to community
March 8, 2021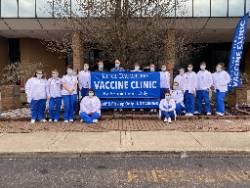 ASHLAND, Ky. – Students in Ashland Community and Technical College (ACTC)'s Associate Degree in Nursing (ADN) program received a once in a lifetime educational experience.
ACTC partnered with King's Daughters Medical Center (KDMC) on Feb. 24 to participate in a community collaborative project.
KDMC gave ADN students permission to assist with the COVID-19 vaccination clinic at the pavilion building in Russell. There were two clinical groups attend the clinic and each student was able to administer over 50 vaccinations. ADN instructors Joseph Allen and Jeffrey Chambers were present to oversee the student activities.
"I am very proud to have been given the opportunity for our students to shine in the community and to help stop the spread of the pandemic," said Natalie Robinson, ADN program coordinator. "Students were overjoyed with the chance to assist with the solution."
Debbie Conley, a student in the ADN program says the vaccination clinic was a rewarding opportunity that she was grateful to be a part of.
"I feel blessed to be able to serve my community during this pandemic. It was amazing to see all the KDMC staff come together to help get the patients vaccinated," she said.
Conley recently returned to ACTC as a student in the ADN program after previously completing an Associates in Arts degree from the college.
"Deciding to continue my education in nursing, I naturally chose the school that was home to me," she said. "The ADN program at ACTC has been a life-changing experience for me. All of the instructors are dedicated to your success and I am grateful to each and every one of them."
Student nurses also recently assisted Campbell Elementary School with well child screenings. Twelve students led by Allen and Chambers, completed height, weight and pediatric BMI screenings, vision checks and hearing assessment.
"The elementary students bonded with the nursing students and enjoyed participating in the assessments. Faculty loved being with this population and having the experience of administering health screenings to children which is an experience they have not had and may never have again," said Robinson. "The clinical day allowed students to view a different dimension of the nursing field. We would like to thank Jana Adkins, RN, school nurse, for allowing us to be a part of this productive day at Campbell Elementary School."
Students in the ADN program learn key nursing skills and practice them in a variety of real-world settings. Graduates are eligible to take the National Council Licensure Examination for Registered Nurses (NCLEX-RN).
Based on research conducted by the Kentucky Center for Statistics (KYStats) in 2019 for the TENCO region, the average salary for registered nurses range from $43,603 to $75,945.
For more information, contact Robinson at natalie.robinson@kctcs.edu.