ACTC to bring laughter to students, staff and faculty
Feb. 24, 2021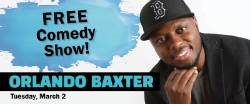 ASHLAND, Ky. – Student Activities at Ashland Community and Technical College (ACTC) is excited to announce a free comedy show for students, faculty and staff.
The comedy show, hosted by Southcentral Community and Technical College, will be held March 2 at 7 P.M. on Microsoft Teams.
Orlando Baxter, a former high school teacher turned star comedian, will be performing.
Orlando Currie, Student Activities Coordinator at ACTC, says the idea was brought up during a meeting of all the student activities coordinators in the 16-college system, and Currie thought this event would be a great way for all of the Kentucky Community and Technical College System (KCTCS) colleges to work together.
"They say laughter is the best medicine. One thing I love about comedy is that it can bring so many different races, genders and personalities together to enjoy and interact with one another," Currie said. "To see all the different KCTCS students, faculty and staff come together for one event that day will be the satisfaction for me."
He added, "Despite everything that has happened in the last year, we will rise, because they can't stop the community in the college."
This show is exclusive for KCTCS students, faculty and staff and registration is required to attend. Register by visiting: https://southcentral.kctcs.edu/baxter/