Grubbs, Conley and Schaffner named Student Ambassadors
Feb. 17, 2021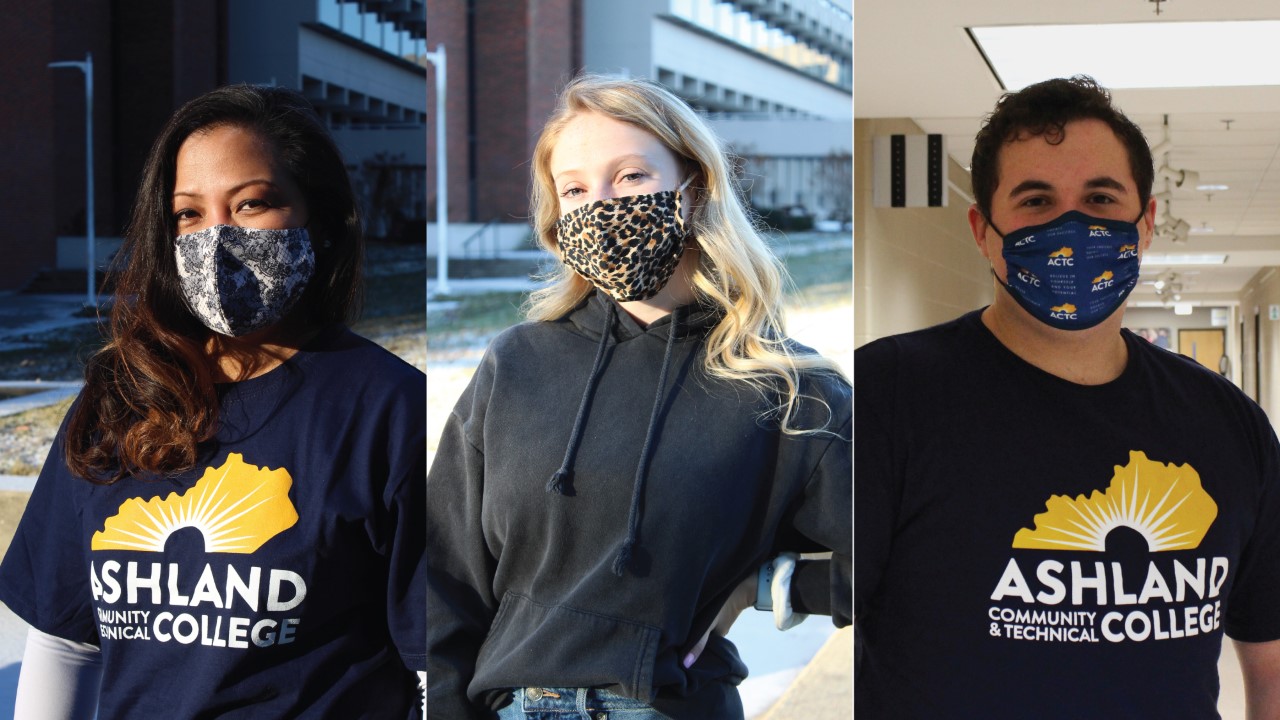 ASHLAND, Ky. – Three students at Ashland Community and Technical College (ACTC) have a new opportunity to develop leadership skills and form new relationships by becoming "student ambassadors" for the college.
Jacob Grubbs, Christine Schaffner and Marlie Conley were named as Spring 2021 ACTC student ambassadors.
The mission of the ACTC Student Ambassador program is for participants to serve as a role model for all current and future ACTC students.
ACTC student ambassadors support recruitment and enrollment for the college, promote student engagement and increase awareness of college services and programs. Most importantly, they display pride in being an ACTC student and represent the student body at school and community events.
Eligible students must be currently enrolled in and maintain enrollment status in 9+ student credit hours in a credential seeking program, as well as maintain a 3.0 grade point average or higher GPA while serving as an ambassador.
Along with networking opportunities and development of communication, interpersonal, organizational, public speaking and problem-solving skills, students who are selected as student ambassadors are eligible to receive a scholarship up to $1,500 per semester if they meet financial aid criteria.
Student ambassadors should have the desire to learn, strong communication and leadership skills, be enthusiastic and have a positive personality, demonstrate initiative and professionalism, are knowledgeable about ACTC and are involved on campus, have a sincere desire to represent ACTC and be able to work well with others and to be a successful team player.
Students were sent an email encouraging them to apply on ACTC's website. A committee was formed to select the students who would serve in this new role.
According to Steve Woodburn, Chief Student Affairs Officer, Grubbs, Conley and Schaffner will be ambassadors for one semester. They may reapply and be reappointed if they are returning to campus in the fall. Over the summer, the committee will seek new ambassadors who will serve a full academic year if eligible.
"Being a student ambassador is a good position to gain knowledge of the innerworkings of a community college, to receive an excellent scholarship and add leadership responsibilities to your resume, among other things," Woodburn said.
Grubbs, who is in his third semester at ACTC, says he enjoys talking to people and learning how the college works.
"The opportunity came up to better my community and the college, and I wanted to take it," he said.
Grubbs is currently majoring in Business Management and plans to transfer to a four-year institution to earn his Bachelor's degree upon graduating.
Conley, who in in her second semester in the Criminal Justice program, says being a student ambassador gives her an opportunity to network with prospective employers.
"This is a way for me to make connections and network for future opportunities," she said. "It's also nice to be able to give back. I had help from someone else when I was starting here. Sometimes people are more comfortable talking to someone their own age."
Schaffner, who is currently enrolled in the Associate Degree Nursing program, chose to continue her education at ACTC after successfully graduating from the Licensed Practical Nursing program.
"Getting my education helped improve my life and the life of my kids," she said. "I have wanted to give back, and being a student ambassador is the chance to do that."
She says being a student ambassador has allowed her to get to know the people on campus whose offices she normally just walked by.
"There's a lot of help here," Schaffner said. "Everyone is here to help students be successful."
She added, "In my opinion, ACTC is one of the best community colleges out there. The facilities are wonderful and the teachers are great and very knowledgeable."
Conley also commented on the helpfulness of the faculty and staff on campus.
"I planned to go to a big university, but I felt like I wasn't seen…like I was just another number," she said. "Anytime I email someone at ACTC, they always reply back, and quickly."
Students who serve as ambassadors also help recruit new students to ACTC.
It is important for prospective students to speak to current students about their experience at ACTC. If a person feels college is not an option for them, it can make all the difference to hear a current student say: 'If I can do it, you can do it too!"," says Brittany Spillman, admissions recruiter.
If you have questions or comments in reference to ACTC's Student Ambassador Program, please contact Woodburn at steve.woodburn@kctcs.edu or Spillman at Brittany.spillman@kctcs.edu.