Advisor Feature: Curtis Bowman, Jeff Cassady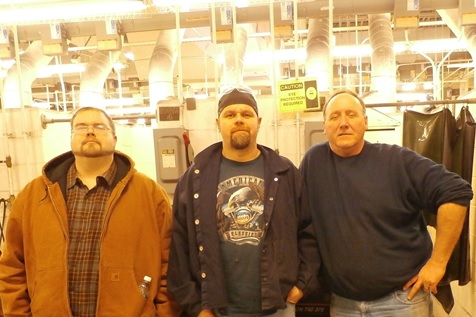 ACTC's welding program is one of the most popular on campus. The class runs in three shifts daytime, evening, and midnight. All three sessions are full for the spring semester, and enrollment doesn't look to be slowing down any time soon. Curtis Bowman and Jeff Cassady are a crucial part in making the program a success.
Curtis Bowman has over 25 years of welding experience and has been teaching for ACTC for over 12 years. He currently teaches daytime welding classes. As an advisor, he teaches the entire ins and outs of the trade, not just the hands-on experience. "We cover a lot of different aspects: how to prep and tack metal together, reading blueprints, and safety precautions. This can be a dangerous trade, and we prepare them to be as knowledgeable and safe as possible."
Certification testing is a big part of the welding trade, and the program prepares students to pass any certification test in the country. "A lot of people don't realize that you have to pass a certification test for each job you go into. There are a lot of different variables to understand as well, such as working with different kinds of metals and elemental factors such as extreme heat and cold." Curtis also motivates his students to focus on their general education and transitional studies. "You need to have good reading and writing skills and also computer skills. This is important for any job these days. Students can only benefit from these courses." Curtis's favorite part of advising is watching the overall transition of the student. "Working with a student from the beginning and then seeing how far they have come at the end is very rewarding."
Jeff Cassady is an ACTC graduate who studied under Curtis as a student. He currently teaches the midnight classes. "Curtis was great to learn from. He could show you different techniques, such as being able to weld with both hands, to maximize efficiency with your work. This job can be dangerous. You have to work longer hours. You're usually working outdoors and have to endure whatever weather elements are happening." Jeff worked for several years as a welder, but has a true passion for teaching. "I enjoy advising. Since I have my associate's degree I can guide the student on what courses the need to complete for their certificate, diploma, and associate's degree. I also enjoy giving students a set of life skills they can use to meet their goals."
The program is very hands-on, which makes it appealing to many students. Curtis agrees that is one of the strongest aspects of this field as a whole. "You're going to be building something that's going to last. It's pretty cool to think that you had a part in that!"