Advisor Feature: Megan Horne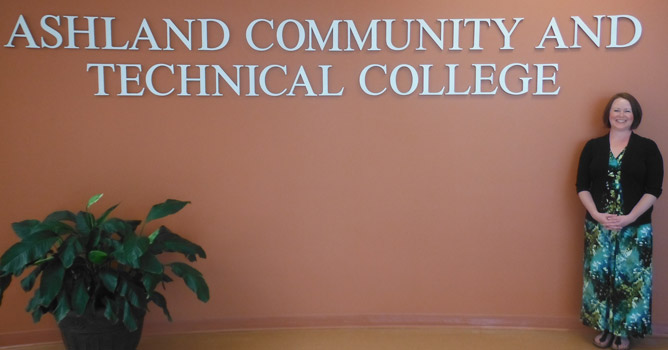 Megan Horne, Director of the Student Support Services program at ACTC, makes it her mission to help students overcome barriers to meet success. The program currently serves 175 students and maintains a strong presence on campus. For many students, Student Support Services is the missing piece to help them meet their goals and graduate with their credential.
Megan has worked with Student Support Services for eight years, but says that every day brings about opportunity to learn something new. "I'm constantly learning new things about our students, their interests, and our programs. This is definitely a job that does not get boring!" Megan earned her bachelor's degree at Berea in psychology, going on to earn her Masters in Adult and Higher Education from Morehead State University. "I got my start working at Berea in the office of special programs. I went on from there to work at Shawnee State University for eight years, doing the same line of work. Now I'm almost eight years into my current job at ACTC. My path feels like it was made out for me and I was meant to be working around students in the higher education setting! I have to say, I truly love it."
Student Support Services has a special application process for students interested in becoming a part of the program. Their mission is to serve individuals from low economic backgrounds, first-generation college students, and students with disabilities, addressing an enormous range of obstacles. Each candidate submits an application, meets for an in-person interview, and completes a thorough intake process. "We spend a considerable amount of time with each student to focus on their struggles and how best to help them," Megan says. "One of the strongest aspects of our program is how individualized we make it. Once they enter into Student Support Services, we stay with them through thick and thin."
As an advisor, Megan's goal is to get to know the student's future goals and wants to know where they see themselves in the future. "These are important things to think about. What is your five year plan? Do you hope to move or stay in our area? What are your interests and passions, and how can you tie that into your major or career? You have to get them thinking about themselves so they can make the best choices for their future."
Megan's general advice to all ACTC students is to maintain a good relationship with your advisor. "You can't be afraid to ask questions and to seek out help when you need it. There are a ton of resources available for students at ACTC! You should take advantage of everything available to you." Megan also wants students to keep the Student Support Services in mind. "Were here, and we can help you!"
For more information about the Student Support Services program, contact Megan Horne at Megan.Horne@kctcs.edu.