Did You Know? Thomas-Alexandre Dumas - First Black 4-Star General
February 21, 2023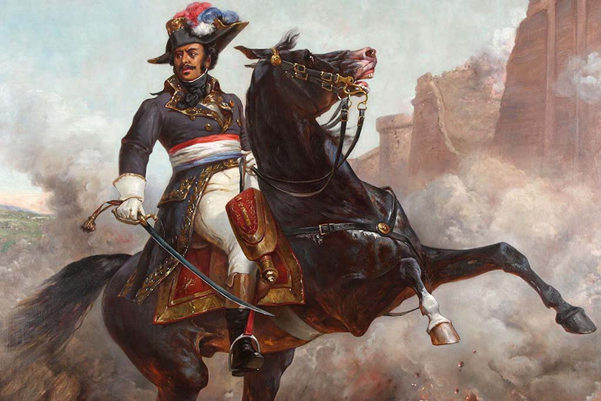 By: Kevin Harrison, Senior Fellow of Culteral Diversity and Apprenticeship Project Coordinator
Did you know that France had a black general? Thomas-Alexandre Dumas was born to a French nobleman in the Caribbean on the island of Saint-Domingue. We know this island today as Haiti. Although his father, Marquis Alexandre Antoine Davy de la Pailleterie, was a nobleman, Thomas was born into slavery because his mother Marie-Cessette Dumas was an enslaved Black person in Saint-Domingue. Thomas Dumas was Born on March 25th, 1762. His father understood that his son would not be allowed to excel in Saint Domingue, where Thomas-Alexandre was enslaved and had him come to France at 14.
During this time, His father received the title of Marquis de la Pailleterie. Thomas-Alexandre lived in France as the son of an aristocrat, and his father had him educated in France. Being educated in Saint-Domingue was not possible if you were a slave. At 24, Dumas' father helped him enter the French army. However, his father refused to allow him to use the family name because he was joining the military at the lowest level, a private. Therefore, Thomas-Alexandre Dumas dropped his father's name, "Thomas, "and took his mother's last name Dumas and entered the army under Louis XVI as Alexandre Dumas.
Alexandre Dumas was ambitious and worked through the ranks to become the first black general. People told stories of dumas having superhuman strength. One report stated that Dumas pulled himself and his horse up by a beam in a barn.
Dumas's assistant was injured, and his horse shot from under him; Dumas used his horse as a barricade and defended the bridge alone against a squadron of Austrian soldiers. Upon the arrival of reinforcements, he then took another horse and chased after the Austrian regiment. Dumas, from his many battles, earned the nickname "The Black Devil."
As Alexandre moved up through the ranks, he found himself under the leadership of Napoleon Bonaparte as a divisional general in 1797 in the French Army of Italy. Bonaparte became fully aware of Dumas' exploits. Later, Dumas and Napoleon had a falling out when they were in Egypt, and Dumas turned to go back home. In 1799 the ship Dumas sailed on was not seaworthy and landed on Italian soil in Taranto. He was captured and became a prisoner of war for two years. Upon release in 1801, Alexandre Dumas returned home. General Alexandre Dumas retired from the army as the first black 4-star general to ever command a white army. Did you know?
References:
Alexandre Dumas French general [1762–1806]
France's first black general once fought a cavalry squadron by himself — and emerged unscathed