Jam Sessions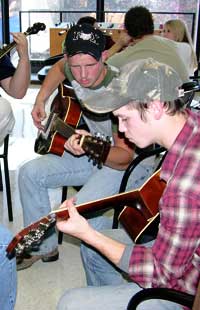 ACTC students, faculty and staff are invited to enjoy jam sessions at the College Drive and Technology Drive Campuses. Sessions are scheduled forWednesdays from 11:30 a.m. to 1:00 p.m. in the Student Lounge at College Drive Student Lounge and Tuesdays and Thursdays from 11:00 a.m. to 12:00 p.m. in Room 139 at Technology Drive.
Players of any acoustic instrument guitar, banjo, lute, mandolin, harmonica, etc. are welcome to sit in with fellow musicians and play music in a variety of styles.
No specific level of playing ability is required, because the sessions offer a chance for beginning to accomplished players to teach and learn from each other while having fun.
The Jam Sessions were started in October 2009 to provide an opportunity for people in the ACTC college community to share their interest in music. For more information, contact Gayle Fritz, 326-2034 at College Drive or Harold Henry, 326-2476 at Technology Drive.