Samantha Rolen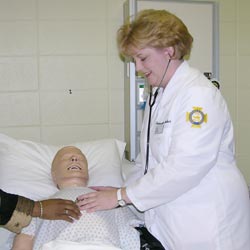 "The best thing about coming to ACTC so far has been the "family" atmosphere, supportive faculty and staff, and the wonderful student friendships I've made along the way. I also appreciate the convenience ACTC provides in achieving your degree close to home."
"My entire experience with the nursing program and faculty has been a blessing. The idea of going back to school and changing my career was intimidating, but the nursing staff made this transition easy - especially my advisor and Nursing 101 instructor Mrs. Barbara McKinney, Associate Professor of Nursing. My clinical experience through the ACTC Nursing Program has also been very positive and rewarding. It is a privilege to have hospitals right here in our community that are actively involved in supporting ACTC nursing students by providing the best possible educational experience. The academic expectations in the nursing program are challenging...but with determination, hard work, and a supportive faculty - anyone can achieve success!"
Update
Samantha S. Rolen graduated from ACTC in 2010 with an AAS degree in Nursing. She began as a Registered Nurse at Our Lady of Bellefonte Hospital in Ashland, and she now works at Clear Lake Regional Medical Center in Webster Texas as a Post Partum Nurse. "I LOVE it" she says.