Grace Browning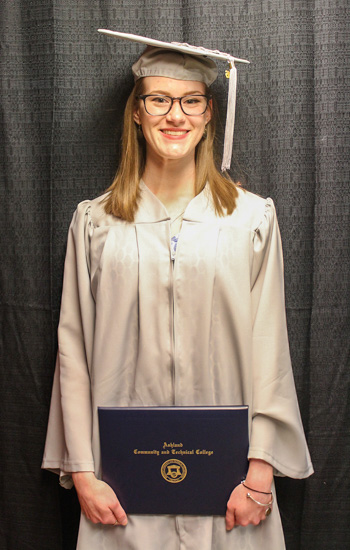 Holy Family Collegiate High School Early College Graduate
Grace Browning is the first graduate of the Early College program established by ACTC and Holy Family School in 2014. The Collegiate High School allows students to simultaneously earn a high school diploma and a community college degree. Their first two years are spent in high school college preparatory classes at Holy Family, and the last two years are spent in traditional college classes at ACTC.
An Ashland resident, Browning was homeschooled through eighth grade and attended two years at Raceland-Worthington High School before enrolling in Holy Family Collegiate High School. Through high school, she has been involved with her church youth group and the youth band as well as with the Baptist Campus Ministries through ACTC.
At the Graduation Ceremony, Browning received both a high school diploma from Holy Family and an Associate in Arts Degree from ACTC. She is transferring to Northern Kentucky University this fall where she has been awarded the Excellence Scholarship. She plans to major in nursing, and eventually obtain her Doctorate in Nurse Midwifery.